HR Answers: Happier members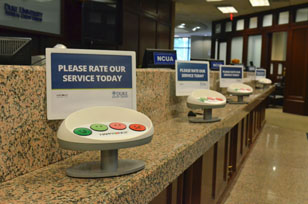 Duke University Federal Credit Union deploys kiosks to measure service standards.
When $123 million/15,000-member Duke University Federal Credit Union, Durham, N.C., was seeking to create a more consistent member experience, it chose HappyOrNot's  innovative customer satisfy action kiosks. With the kiosks already in use by credit unions throughout the U.S., Duke University FCU took the use of the smiley face devices to a new level by deploying them at every member interaction station within the credit union.
From the moment members walk into the lobby, until the time they leave, they are presented with the opportunity to express their satisfaction level. The fun-to-use kiosks are strategically placed at the greeter station, each of the loan officers' desks, the teller windows, and even (soon) the drive-up stations.
The results have been extremely rewarding for the credit union. "The HappyOrNot kiosks have resulted in a more consistent customer experience," says Duke University FCU CEO Daniel Berry, CCE, a CUES member. "The presence of the kiosks and the immediate feedback they provide is always in the mind of our staff, encouraging them to be more careful to do their absolute best to serve every person who comes in the door."
continue reading »