HR Answers: Tips for creating employee onboarding videos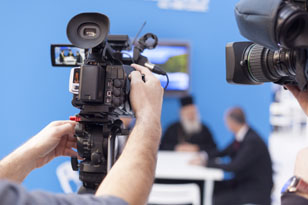 Provide new credit union employees with easy access to information needed for a successful start.
by. Ari Bixhorn
Whether it's for job-specific training, benefits enrollment, or communicating company culture, efficient onboarding is an essential part of every organization's learning and development activities. For many organizations, onboarding presents a unique challenge: How do you deliver time-sensitive training, tailored to a specific role, to a small audience that may be remotely located across the country or around the world?
Many organizations are turning to video to enhance their onboarding programs. Video provides a more engaging way to ramp up employees and—because video can be viewed and searched from any laptop, tablet, or smartphone—it provides new employees with easy access to the information they need for a successful start.
But where do you begin? If you're looking to enhance new hire training with video, here are a few tips to get started.
Keep it Simple
Your training videos don't have to have production budgets that rival Michael Bay's action movies in order to be engaging. With new cost-effective video platforms, you can easily record an onboarding presentation with as little as a Windows or Mac computer, PowerPoint or Keynote slides, and a webcam. All you do is hit the record button, and your video is automatically synchronized to your slide presentation. No expensive A/V equipment is needed.
continue reading »