HR technology can enhance employee engagement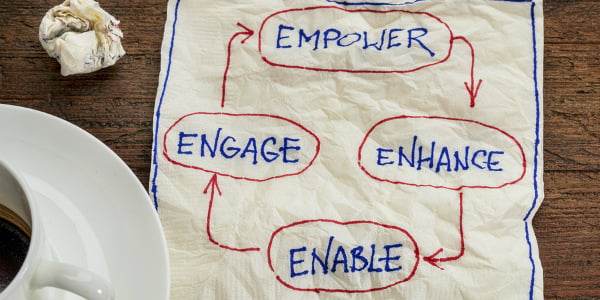 In today's competitive marketplace, credit unions must maintain a welcome and positive environment where engaged, knowledgeable employees create a sense of loyalty among members that leads to long-lasting member relationships. However, when employees don't feel motivated or "engaged" in their work, creating and maintaining this type of business environment can be difficult.
According to a recent Gallup study, 70 percent of American workers are "not engaged" in their work. Even if a very small percentage of the employees in your credit union fall into the unengaged category, this prevailing disengaged attitude can have an adverse effect on overall morale and the culture of your institution.
The good news is, by empowering your employees to be more involved in the management of their workplace experience, you can build an engaged workforce that is more invested in the credit union's success. An automated Human Resources Information System (HRIS) can provide the technology to streamline your internal HR processes into one seamless operation that simplifies management of all HR-related data and provides your employees with access to the information they need to maintain a balanced work/life experience.
High-tech solution to information management
In the past few years, technology has become an important tool for gaining quick access to the information we use every day to communicate and conduct business. Likewise, the ability to access and manage HR information from a centralized portal gives employees a sense of involvement in key issues that affect them, both at work and in their personal lives – such as benefits, payroll, vacation, paid time off and performance reviews. With an automated HRIS employee portal, individuals are empowered to provide input and make decisions on such benefit and HR-related information as:
Health benefits and compensation. With the renewed emphasis on employee health care initiatives, your employees will have the ability to compare, analyze and check benefits costs and plans prior to enrolling in a specific plan; enroll in or change all aspects of their benefits and other HR-related information; access their consolidated benefits summary report and review the total value of their compensation package with Personalized Total Compensation Statements.
Attendance and time off.  With automated tracking modules for time off and attendance, your employees have access to real-time leave balances, as well as the ability to submit leave requests directly from their Employee Portal.
Setting performance goals. Performance reviews don't need to be especially time-consuming or stressful with an automated performance management module that simplifies goal setting by you and your employees. Tracking capabilities make accessing past employee reviews easy for quick reference and help employees stay on track when they are measuring their progress on new goals and initiatives. Plus, paper-based review forms and manual routing are no longer required, making employee, managerial and even 360 reviews quicker and more effective for staff and the credit union.
In addition to enabling employees to be more involved in the management of their personal information, HRIS can streamline the management of personnel documents for your HR professionals. This web-based system streamlines employee benefits management and easily integrates multiple programs across administrative functions – such as providing benefits and payroll information to individual service providers – to simplify daily reporting and improve accuracy.
Positive employee experience leads to organizational success
Just as you rely on technology to improve the products and services you offer your members, an automated HRIS system can streamline all traditional internal HR processes and add efficiencies to procedures that have historically been completed manually. Plus, additional modules enable you to gather feedback from employees through surveys – either standardized or customized for your situation – and administer wellness programs that monitor such things as employee health, nutrition and exercise.  Employee access to reports that show their goals, progress and results can have a tremendous impact in motivating participants and demonstrates that you are committed to supporting a healthy workplace.
While each of these modules can have a positive impact on job satisfaction, combined they create a collaborative work culture where you are supporting your employees and providing them with the tools they need to manage important personal information. In many cases, this relieves the stress of balancing work/life demands and can level the playing field between small and large institutions, especially when it comes to recruiting Millennials and other technology savvy individuals.
Creating a long-term win win situation
As credit union Human Resources departments continue to be taxed with increased responsibilities, outsourcing HRIS functions can be extremely beneficial throughout the organization. Web-based systems can decrease the amount of time and paperwork required to manage personnel functions, while at the same time providing employees with more involvement in the benefits they receive by working in your organization. And when employees are more involved in creating a positive work environment, they tend to be more engaged. This can result in a tremendous boost for your credit union as well as your member services efforts.
About CU People
CU People (CUPI) is a leading provider of human resource (HR) outsourcing solutions. For 13 years, CUPI has been recognized as the preeminent outlet to provide HR expertise to financial institutions – freeing them up to concentrate on day-to-day operations and strategic planning. Through CUPI's value-added services, credit unions and other companies can realize improved data integrity, streamlined HR processes and eased HR administrative burdens – all of which allows businesses to re-focus their efforts and concentrate on improving their bottom line. For more information on CU People, Inc., contact Steve Swanston, executive vice president at sswanston@cupeople.com or call (281) 243-6417. 
Steve Swanston is EVP of Sales for Velocity Solutions. He is responsible for defining the firm's sales strategy in order to maximize growth and market share, as well as ...
Web: www.myvelocity.com
Details