Incentives are key to mobile wallet usage
As mobile wallets emerged on the U.S. payments scene in late 2014, tech experts and consumers alike expected phones to soon replace their physical wallets.  While this theory offered the thrilling possibility of more room in purses and back pockets, consumers, in actuality, have been slow to adopt mobile wallets.
While a recent study of mobile wallet usage showed an increasing number of users are giving the technology a try, few consumers use mobile wallets on a continuous basis. Consumers say their top two reasons for lapses in their mobile wallet usage are because they forgot to use them or were unsure of which merchants accept the wallets. Community banks can begin to move their mobile wallets to the front of consumers' minds by introducing rewards and loyalty programs to their mobile wallets.
When done right, incentives can drive mobile transaction adoption and usage. Take Starbucks, for instance. The coffee chain offers rewards such as free drinks when consumers pay using their mobile app, and the results are impressive. About 24 percent of all Starbucks transactions are done via mobile.
An incentive-focused approach could be the key community banks need to unlock greater consumer usage for their own mobile wallets. Consider introducing one (or all) of the following approaches to your bank's mobile wallet program:
Financial incentives – Providing consumers with a cash up-front or cash-back deal when they use a mobile wallet may encourage them to favor their phones when paying.
Merchandise incentives – Android Pay introduced its "Tap 10" promotion offering consumers a free song with every tap and pay transaction they made within a two-month timeframe. At the tenth tap, consumers received a free Chromecast. Other merchandise offerings could also be effective.
Data incentives – Consumers often complain about limited data on their mobile devices. Consider offering a free GB (or two) of data when consumers make a mobile payment.
Digital content incentives – Chase recently offered consumers a free album download for enrolling their cards in Apple Pay. A similar approach with songs, games or videos could also elicit the desired consumer behavior.
If consumers see clear benefits to entering their cards into a mobile wallet solution, they will be more motivated to tap and pay. For best results, incentivize your consumers after multiple uses rather than just a single use. Revisiting your incentive programs throughout the year will also drive adoption and keep your cards top-of-wallet. Choose an incentive that best meets the needs of your bank and your cardholders, and the payments will follow.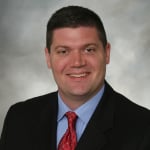 Brian Day is responsible for working with PSCU's Owner credit unions on understanding industry trends and product solutions. He has worked in various roles focused on innovation, product development ...
Web: www.pscu.com
Details