Insights from the front lines: Financial counseling during #COVID19
We provide financial coaching to thousands of consumers a week, most of them credit union members. Given that COVID19 is also an economic virus, I wanted to share with you what our counselors are doing when members approach us for help with their finances during this crisis.
Where do we start? How do we help members with a financially stressful situation? Karina Galvan-Torres, Senior Director of Operations at BALANCE, recommends the Five Steps to Financial Triage:
Your own financial health matters. Financial stability is a key contributing factor to overall well-being so give yourself permission to seek professional help, such as a certified financial coach, to help you develop a personalized financial action plan that is right for you. Sometimes, if you are too close to a problem, solutions can be hard to see. A professional prospective can make a big difference.
Assess your situation. What are your primary concerns? Are there challenges that you need help with undertaking? Look at the areas of saving, spending, borrowing, and planning. Do you need to develop a 3-6 emergency fund? Reduce spending during crisis and recovery? Look at current interest rates see about a reduction via consolidation or special COVID19 programs. How can your family plan for the next financial challenge? Focus your attention on the most pressing concern.
Take inventory. You will need to have an accurate understanding of where you currently stand in order to develop a plan. The budget process, which is a complete review of income, assets, expenses and debts will help make this clear.
Prioritize your needs and goals. Your immediate needs such as food expenses and rental or mortgage payments should be at the top of the list, and non-essentials towards the bottom.
The key to success is to create an action plan. Several small actionable steps should collectively lead towards accomplishing a goal. It is important to hold yourself accountable while remembering that the journey towards financial stability is not linear. There will be difficulties along the way.
What if your member has questions that are specific to housing? Safe and affordable housing is a basic human need so of course it concerned us when we started seeing an increase in calls from consumers regarding housing (both rental and mortgage). I asked Linda Davis-Demas, Senior Director of Housing at BALANCE, what advice our housing counselors are giving to clients who are worried about making the next mortgage payment. She had three main points for those struggling to make your mortgage payment. Here are some tips to help you navigate this trying time.
Communication is key. There are options available. First and foremost, contact your mortgage servicer (where you send your payments). They are tasked with managing your loan and in times of hardship, assisting you with options. Most mortgage servicers are currently offering borrowers a forbearance, which is a reduction in payment or temporary suspension of payment. It is important to note, this is a temporary solution. The length of a forbearance depends on the situation; they can last for 3 months to 6 months. They rarely go past 12 months, which would necessitate a permanent loss mitigation option.
Beware. There is a lot of information out there, make sure it is from a trusted source. Unfortunately, in times such as these, scammers run rampant. An excellent source of information is Freddie Mac's "My Home" webpage. You do not have to have a Freddie Mac loan to access the site. They added a section specific to those impacted by COVID-19. Here you can find useful information for both homeowners and renters.
Stay informed. While watching the news can be stressful, it is important to stay informed with what is happening in your area. Many states, cities and counties have taken action to suspend foreclosures and evictions (temporarily). If you have a Freddie Mac, Fannie Mae or FHA loan, all foreclosures and evictions are currently suspended until at least June 30, 2020. This date may be extended depending on the progression of the virus in our country.
In talking with the leaders of our counseling departments, I see a common theme – fear.  People are feeling overwhelmed, afraid, and exhausted.
What is the take away for credit unions?
Lead with empathy. Tune into members' emotional state. Try to "see the whole person" and respond in a way that lets them know they were heard and understood. Meet them where they are at and help them move forward. This kind of relationship builds loyalty. Everyone remembers the people and organizations that get them through the tough times.
Build Member's Financial Health as an organization. We seem to run from financial crisis to financial crisis. With each government shut down, tornado, wild fire, hurricane, and virus, we see the financial fragility of America. We can create a "financial health movement" inside of the credit union movement. We can engage all departments of a credit union in addressing the member's financial health. How can lending, collections, marketing, biz dev, and member services increase member financial health? Improving the financial health of the member is a high calling and it will take the whole organization, not just a financial education department. Think cross-functional and omni-channel as the future of financial health!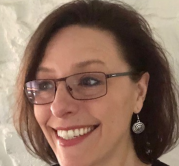 Cynthia is a Credit Union Development Educator (CUDE), she holds a BS in Business Administration and an MBA from Elmhurst College in Illinois, and a master's degree in Adult ...
Web: www.balancepro.org
Details