It's a big week in Washington D.C. at CUNA GAC 2019!
Once again the streets of D.C. are full of credit union advocates who have descended on our nation's capital to attend "the premier event for political impact in the credit union industry."
In this morning's General Session, CUNA President Jim Nussle will be giving an opening address that will be streamed live on Facebook starting at 9:30 a.m. EST. Following Nussle's Speech, former senator and Secretary of State John Kerry will deliver the week's first keynote address to the GAC crowd.
Yesterday, the annual ED talk was given by New York Times Best Selling Author Alison Levine, writer of On the Edge and leader of the first American Women's Everest Expedition in 2002. Levine's experience with leadership in the face of adversity paints an inspiring picture of the obstacles one must face in order to be successful at climbing mountains or leading your credit union.
"Even though you're going backwards, you're still making progress . . . Backing up is not the same as backing down…"
Levine talked about the grueling up-and-down process to climb Mt. Everest, ascending to different level camps and then returning to basecamp to acclimate their bodies to the high-altitude conditions.
As a leader, you can't always charge forward, sometimes you have to go backwards for a bit.
"Fear is okay. Complacency is what will kill you…"
In order to survive the dangers of Mt. Everest, you can't afford to be paralyzed by your fears. For credit union leaders, you have to get out and do your job even when you don't feel like you can. According to Levine, "you can't expect your team to endure anything you're not willing to endure."
"Storms are temporary. You have to be able to take action based on the situation, not your plan."
Things won't happen exactly as you'd like them to. Your plan is probably out-of-date as soon as you finish making it.
"Calm doesn't equal no risk…"
Even when things seem to be going well, you never know what's right around the corner.
Check back for #CUNAGAC updates throughout the day!
GAC underway, livestream of Nussle's speech highlights Monday
Strategic focus leads to success
Record-breaking 100 young professionals 'Crash the GAC'
Sunday scenes from the 2019 CUNA GAC
Video: Fiserv giveback benefits children's hospital, Foundation
Sunday's top tweets from #CUNAGAC
Coming to 2019 CUNA GAC? Here's what you need to know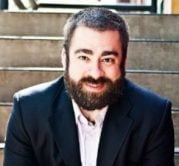 John Pettit is the Managing Editor for CUInsight.com. John manages the content on the site, including current news, editorial, press releases, jobs and events. He keeps the credit union ...
Web: www.cuinsight.com
Details