Lawmakers reach agreement on budget, breaking gridlock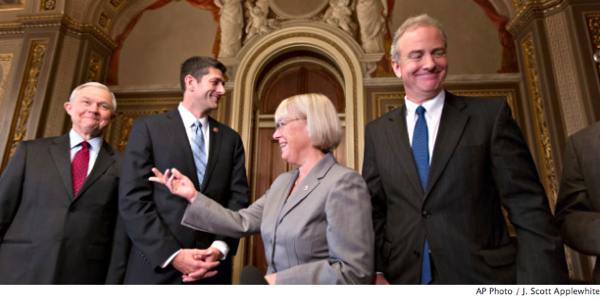 Modest deal would reverse some automatic spending cuts and could end cycle of brinkmanship
Congressional leaders struck a deal on Tuesday to undo billions of dollars in automatic spending cuts that have frustrated both parties, a modest agreement that nevertheless raised hopes of an end to the nonstop budget battles and brinkmanship that have consumed Washington in recent years.
The deal, which would set spending levels for the next two years and replace the automatic cuts mandated by "sequestration" with more targeted cuts and some revenue increases, is expected to go before the House later this week, and the Senate shortly after. It follows intense negotiations between Wisconsin Republican Representative Paul Ryan and Washington Democratic Senator Patty Murray, the respective House and Senate Budget Committee chairs, who have been working to avert another government shutdown early next year. The deal does little to resolve the much larger partisan divides on government spending, but if enacted, it would still be the most significant budget agreement since Republicans seized control of the House in 2010.
"From the outset, we realized if we forced each other to compromise on a core principle, we would not get anywhere," Ryan said during a joint news conference with Murray at the Capitol. "That's why we decided to focus on where there is common ground."
"In divided government, you don't always get what you want," added Ryan, who was the Republican Party's 2012 vice-presidential nominee. "That said, we can still make progress toward our goals.
"The debt would go down more with this than if we did nothing," Ryan said, taking pains to note that the revenues in the deal come from fees and other sources, not raising taxes. "I think conservatives should vote for this … I have every reason to express great support from our caucus."
Murray hailed the agreement as one that would stop Congress from "lurching from crisis to crisis."
This deal doesn't solve all of our problems," she said. "But I think it's an important step to heal some of the wounds here in Congress, and show we can do something without a crisis right around the corner."
House Speaker John Boehner and House majority leader Eric Cantor quickly voiced support for the deal. Republicans have been more eager to cut a deal since the government shutdown in October sent their poll numbers into a nosedive and distracted from the botched rollout of President Barack Obama's health-care-reform law. Obama also embraced the deal.
continue reading »