Lawmakers Scrutinize FSOC Regulators Coordination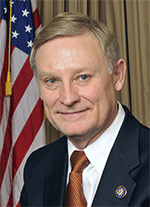 The extent and limits of the Financial Stability Oversight Council's authority to ensure different regulators are coordinating with each other in rulemakings was a key area of focus at a House subcommittee hearing Thursday.
The hearing, held by the House Financial Services Subcommittee on Oversight and Investigations, explored the Government Accountability Office's assessment of FSOC. The council was established by the Dodd-Frank Act to identify and monitor excessive risks to the U.S. financial system.
In a previous report, the GAO suggested the FSOC needs to establish stronger interagency coordination on the issuance of rules affecting financial institutions – a view shared by NAFCU. Last year, NAFCU President and CEO Fred Becker wrote then-Treasury Secretary Tim Geithner, who headed FSOC, about the need for better coordination among the agencies, particularly with respect to rules impacting credit unions.
When questioned by Chairman Emeritus Spencer Bachus, R-Ala., about how regulatory coordination was being assessed, FSOC witness Amias Gerety said he would have to provide an answer in writing later. Gerety, FSOC's deputy assistant secretary, said he would seek to explain how far FSOC's authority goes in that area and where it ends.
continue reading »