Lawmakers to GAO: Work with credit unions on Reg D study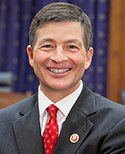 House Financial Services Committee Chairman Jeb Hensarling, R-Texas, and Rep. Robert Pittenger, R-N.C., urged the Government Accountability Office to conduct a study on the impact of Regulation D's limit on transfers from savings accounts and that the GAO consult with credit unions and community banks on the issue.
A similar study was called for under the House-passed "Regulation D Study Act," H.R. 3240. While cleared unanimously by the House, the bill failed to get action in the Senate. Hensarling and Pittenger want the GAO to study the issue anyway.
"Federal Reserve Regulation D limits consumers to six transfers per month from their savings account to any other accounts. This regulation is over 30 years old and has not been significantly revised since it was first implemented," Hensarling and Pittenger wrote.
Hensarling and Pittenger requested the study to examine the history of the monthly transfer limit and what benefits might arise from increasing it. H.R. 3240, which was passed by the House this month, would require a study of the impact of the requirements on depository institutions, consumers and monetary policy. Prior to the bill's passage, sponsors Pittenger, and Rep. Carolyn Maloney, D-N.Y., both cited NAFCU's support of the measure in their remarks before the full House.
continue reading »