Legislators, Bartolomucci speak on need for regulatory relief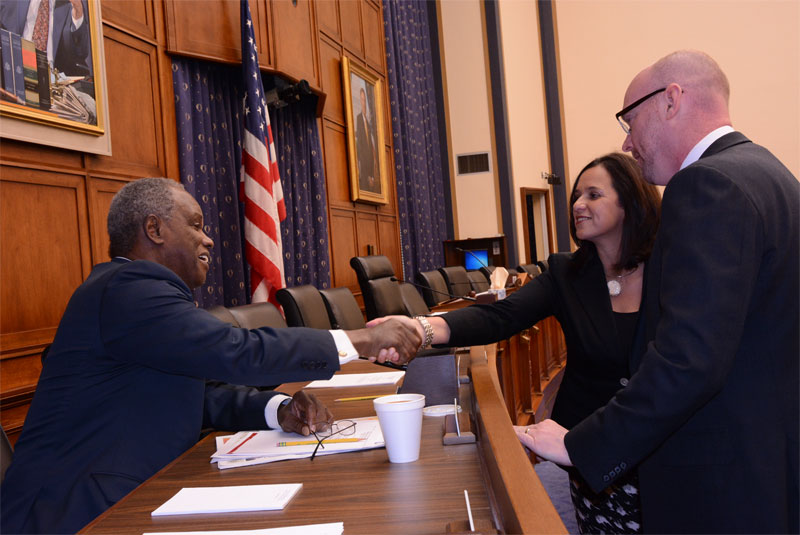 "The crisis of creeping complexity with respect to regulatory burden is very real" for credit unions and other community-based financial institutions, Rose Bartolomucci, president/CEO of Towpath CU, a state-chartered, privately insured credit union in Akron, Ohio, said in Wednesday testimony before members of the House Financial Services subcommittee on financial institutions and consumer credit.
Bartolomucci testified on behalf of the Credit Union National Association and her credit union at a hearing entitled "Examining Regulatory Relief Proposals for Community Financial Institutions." The hearing focused on three bills: A bill to require the National Credit Union Administration and other federal financial regulators to assess and address regulatory duplication or inconsistency; legislation that would allow privately insured credit unions to join a Federal Home Loan Bank (FHLB); and a bill that would adjust the Consumer Financial Protection Bureau's rural designation to align with the definition used by the U.S. Department of Agriculture.
"Small credit unions are expected to comply as quickly and efficiently as large financial institutions with hoards of compliance officers. While the elimination of one duplicative rule or regulation may not seem like much, to a compliance officer in a credit union, it is. Without one more rule to comply with that employee can now spend time with a credit union member, helping to serve their financial needs," Bartolomucci said in written testimony.
Responding to committee questions later in the hearing, she noted that regulatory compliance issues have hampered her credit unions' attempts to serve its 21,000 members, Bartolomucci, who is also a former Ohio state credit union regulator, told legislators her credit union has 47 employees, with one full time compliance officer and a shared compliance officer that also works with two other credit unions. The cost of compliance can make it more difficult for her credit union to offer new products to members, she said. Compliance costs and regulatory burdens "will take the lives of some of our credit unions," she noted. Some credit unions cannot afford the cost of compliance, and thus seek out strategic mergers, she added.
continue reading »