Madeleine Albright on managing a world of change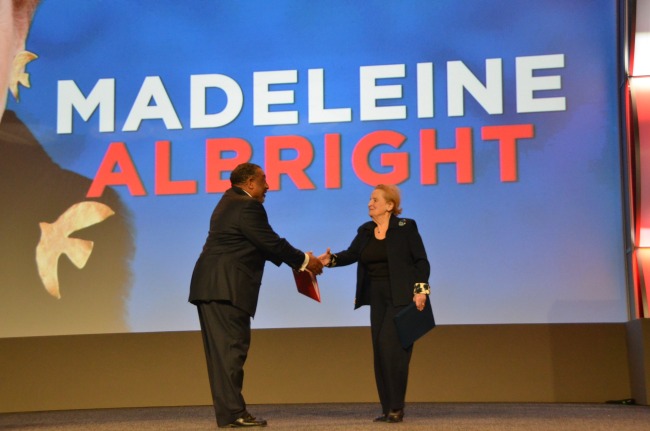 The world has never been as interdependent as it is now, the former Secretary of State says.
Former Secretary of State Madeleine Albright was managing a world of change long before she was giving speeches on the topic.
Albright, the 64th secretary of state—and first woman to hold that position—was born in Czechoslovakia, only a few months before Hitler's troops marched into Prague.
"My father was a diplomat at the time and unwilling to cooperate with the Nazis, so my parents and I fled to England, where we spent World War II."
When the war ended, they returned to Prague, where her father was designated a Czech ambassador. But when the government was taken over by Communists, her family again went into exile, this time across the Atlantic.
They moved to Colorado, where her father established a university program for international affairs.
The world is changing faster than ever, she said. "We used to compare international relations to chess, where two people are sitting quietly in chairs and conquering their moves. Now, I think it's more like billiards—a game that's dynamic and full of the unexpected."
Megatrends in international systems intensify the pressures as we try to manage the world around us, she said. Policy makers have always dealt with megatrends, but these forces today create their own contradictions. For example:
continue reading »