Matz concerned payday rule changes threaten credit unions affordable PALs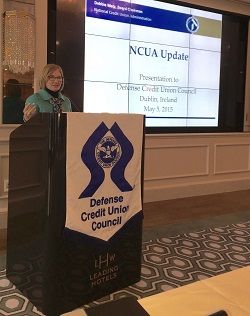 Proposed changes to payday lending rules could prevent credit unions from making affordable payday alternative loans (PALs), National Credit Union Administration Chair Debbie Matz said Monday.
Speaking at the Defense Credit Union Council's Overseas Subcouncil in Dublin, Matz discussed the proposals, as well as a number of other credit union issues.
The changes Matz referred to include those being considered by U.S. Department of Defense (DOD), which would cap military annual percentage rate (APR) at 36%, a number that includes fees.
"We have done the math and found that when fees are included, many credit unions' short-term loans would exceed the proposed 36% military APR limit," Matz said.
The NCUA leader underscored, "Unfortunately, this proposed rule would deny access to affordable alternatives to predatory payday loans."
continue reading »