McCarthy pushing for reg relief House action this month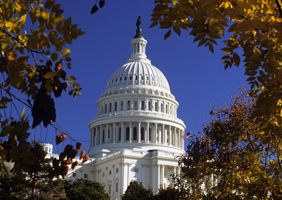 House Majority Leader Kevin McCarthy, R-Calif., is pushing action on regulatory relief measures for his April agenda, including NAFCU-supported bills on manufactured housing and the definition of "points and fees" in CFPB's mortgage rules.
"We must also remain focused on stemming the growing avalanche of Washington red tape and regulatory overreach that harms consumers and taxpayers, reduces their choices and makes it harder for them to achieve financial independence," McCarthy wrote in announcement of the coming month's agenda. "Consumers and taxpayers now have fewer community financial institutions to help them achieve financial independence. Without these institutions, it is harder to buy a car so they can drive to work, send a child to college, or start a small business."
One of the bills highlighted by McCarthy is the NAFCU-backed "Mortgage Choice Act," introduced by Reps. Bill Huizenga, R-Mich., Gregory Meeks, D-N.Y., and seven others. The bill, H.R. 685, would clarify the definition of "points and fees" under the Truth in Lending Act as applied in CFPB's qualified mortgage rule.
McCarthy also noted H.R. 650, the "Preserving Access to Manufactured Housing Act," introduced by Rep. Stephen Fincher, R-Tenn. The bill would help preserve access to manufactured housing by adjusting the regulatory threshold for "high-cost" home loans. Companion legislation has been introduced in the Senate by Sens. Joe Donnelly, D-Ind., Pat Toomey, R-Pa., Joe Manchin, D-W. Va., and Tom Cotton, R-Ark.
continue reading »