Meeting home contractors' financial needs in 2022
Financial professionals can support home contractors and help them achieve their construction goals. With adequate funding, individuals can reconstruct or add to their properties following a tumultuous time. In 2020, the construction industry experienced financial challenges deriving from material manufacturers and employee shortages that are still being felt today.
When the lockdown began, lumber, copper, steel and other material costs rose exponentially. Construction teams also started dwindling as many individuals stayed home to limit their exposure to COVID-19. Both effects negatively impacted builders' abilities to support their work financially, and credit managers evaluated solutions.  
The Pandemic's Affect on the Construction Industry
Before exploring the financial support available to contractors, it is essential to assess the challenges within the current climate. The home construction sector experienced the biggest drops in production rates during the pandemic. Single-family houses dropped by over 13% between April and March of 2021.
Increasing prices within the industry caused construction limitations. Builders were charging higher than normal rates, causing homeowners to put their projects on hold. Researchers discovered the increased cost of lumber added $36,000 to home building prices.
Now, federal efforts including the American Rescue Plan and the hotly debated infrastructure bill aim to create efficient aid programs, improving employment opportunities in housing and easing financial recovery as the pandemic continues. Credit union managers can utilize the financial chance to support contractors and help America advance its infrastructure.  
1. Government-Backed Loans
Financial professionals can support home contractors through the pandemic by helping them access a government-backed loan. The 7(a) loan is available for small-business owners and comes in different variations. The standard version has a maximum limitation of $5 million.
The Small Business Administration (SBA) guarantee percent is 85 for loans up to $150,000. Additionally, it is 75% for loans exceeding $150,000. The turnaround time is between five and 10 business days.
Professionals can help contractors access the standard 7(a), filling out the SBA 1919 and 1920 forms. Builders can also access the loan under $25,000 without collateral. When individuals access a government-funded loan, they can increase their abilities to support material purchases and employee salaries.
2. Flexibility in Capital Use
Other types of independent small business loans cover specific costs, helping contractors maintain employment rates through the pandemic. Each loan enhances a company's flexibility in its capital use. If home contractors need financial aid for overall general expenses, they can sign up for business credit cards.
The cards offer short-term loans that individuals pay back each month. They may additionally use a business line of credit, which functions similarly to a credit card. The credit option offers some cushioning between financial dips, helping contractors remain stable throughout slow seasons.
Then, there are small business loans. These can help with investments like equipment costs, which might be one of the biggest expenditures a contractor takes on. Of course, with flexibility comes good guidance. Before investing in the loan, it is essential to consider how much one is willing to spend. Next, professionals can explore their options.
If individuals plan on quickly repaying a loan, they can sign up for a one- to three-year payback period. They can additionally ensure they meet the qualification by first filling out an application. Credit workers may also establish personal relationships with contractors to enhance the comfort and ease of finding a loan.
3. Face-to-Face Relationships
Many companies are capitalizing on the pandemic, using the economic crash to take advantage of small businesses. Credit union workers can decrease a contractor's level of distrust by building face-to-face relationships. They may additionally show their value to the customer by placing their needs above everything else.
Financial professionals can also expand their knowledge of the construction industry, broadening their competency. Establishing an assigned banker for home contractor loans can improve a credit union's legitimacy and service. They may additionally provide learning experiences from construction professionals, helping them access the most effective financial aid now and in the future.
4. Financial Education
There are various tips financial professionals can teach contractors, proving an interest in their success. They can educate them about supplier financing to minimize cash flow limitations. Financing companies can cover material costs upfront, and contractors may pay them back over time, helping them fund labor and other expenses before receiving money from a client.
During the pandemic, many contractors turned to friends and family members for financial support. While the method can help individuals quickly cover costs, it has significant disadvantages as well. Combining wealth and relationships is complex, and when contractors lose money, it can cause a strain on their personal connections.
Helping the Home Contractor
When credit union managers begin working with contractors, helping them access financial relief during the pandemic, they must listen to their needs and concerns. Contractors can feel overwhelmed and untrusting if professionals come on too strong and push one loan instead of providing options. 
The pandemic placed stress on individuals around the globe, but listening to a business owner's concerns and showing your support can help them succeed.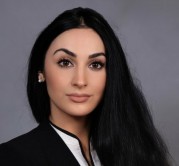 Evelyn Long is a writer and the editor in chief of Renovated. Her work has been published by the National Association of REALTORS®, Training Journal and other online publications.
Web: https://renovated.com
Details