Metsger: Balance in capital, risk key to effective regulation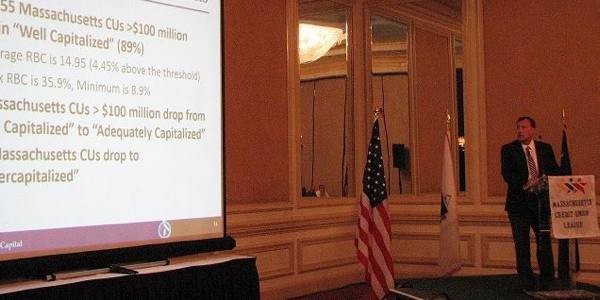 National Credit Union Administration board member Rick Metsger expressed his support for a bill that would allow credit unions to have access to supplemental capital. Speaking to the Massachusetts Credit Union League Monday, Metsger echoed support given by NCUA Chair Debbie Matz for the Capital Access for Small Businesses and Jobs Act (H.R. 719). Metsger also spelled out several adjustments he would like to see in the agency's risk-based capital (RBC) proposal before it is finalized.
Regarding the NCUA's RBC plan, Metsger said there is "significant review, analysis and revision ahead" before the NCUA's proposed RBC rule could be made final. He said he has concluded that the following areas already require adjustment:
Lengthening the phase-in period for any final rule;
Clarifying that only the NCUA board, not examiners, can raise individual credit unions' capital requirements;
Adjusting the risk weights for investments in credit union service organizations and corporate perpetual capital;
Modifying the risk weight for cash at the Federal Reserve; and
Altering risk weights when other federal agencies have provided guarantees.
Metsger said he is looking for better ways to deal with interest rate concentration risk, and that he will continue to evaluate comments and analysis of those components.
He also recommended that supplemental capital should be permitted by regulation for RBC purposes for any federally insured credit union. The Credit Union National Association  is a proponent of this idea.
continue reading »