Metsger Pledges 'Safety And Soundness' To Nation's Credit Union System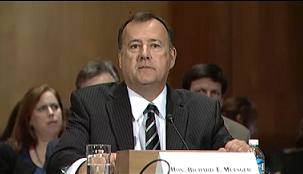 During yesterday's Senate Banking Committee nomination hearing, NCUA Board nominee Rick Metsger promised "continued safety and soundness of our nation's credit union system" if confirmed to the NCUA Board.
Rep. Mel Watt, D-N.C., nominated as director of the FHFA, also gave his testimony.
During the hearing, Senate Banking Chairman Tim Johnson, D-S.D., asked Metsger what lessons credit unions learned from the financial crisis and what steps NCUA should take to strengthen the credit union system. He replied that NCUA needs to be watchful in good times and in bad.
He also said interest rate risk is of particular concern as credit unions are very involved in the mortgage market. He also noted that all credit unions, whether they subscribe to the Central Liquidity Facility or not, need an emergency liquidity plan.
Lastly, Metsger said that technology creates risk – systemic risk – to the share insurance fund, and that NCUA rules need to be as contemporary as possible, particularly in terms of cyber security threats.
When asked by Sen. Jack Reed, D-R.I., whether or not the MBL cap should be raised by Congress, Metsger said that Congress is the body that would determine if such a move was a good idea.
In questioning FHFA director nominee Watt, the issues of eminent domain and principal reduction were raised – but Watt gave little detail on either.
continue reading »