Metsger prepares to tackle NCUA budget issues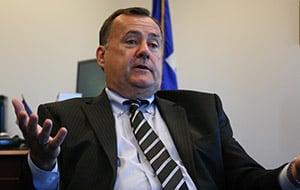 NCUA Board Member Rick Metsger, who will be getting his first budget briefings from agency staff next week, describes himself as a fiscal conservative who prefers a zero-based budget model over "current service level" budgeting.
Metsger says with current level service budgeting, "we just assume everything else is still needed, and we add dollars to it." But a zero-based model "forces you to look carefully at what is still working, what is still needed, what you need to reprioritize," he said.
In a recent interview with The Federal Credit Union, NAFCU's bimonthly magazine, Metsger said asking how big a budget should be is like asking "how long is a piece of string? It all depends. What is important is that it's enough to do the job and flexible enough to adjust to changing conditions."
What happens with NCUA's 2014 budget won't be officially known until next month, when NCUA's board is expected to review and approve the coming year's funding and expenditures. That budget will provide the basis of next year's federal credit union operating fee scale and the share insurance fund transfer rate.
Metsger will soon tackle the budget issue. Meanwhile, he said he is also focused on ensuring credit unions have the capital and liquidity they need to weather troubled times. And he reiterated a theme he sounded during NAFCU's Congressional Caucus last month in Washington: that the National Credit Union Share Insurance Fund is his top priority.
continue reading »