Middle class & living paycheck to paycheck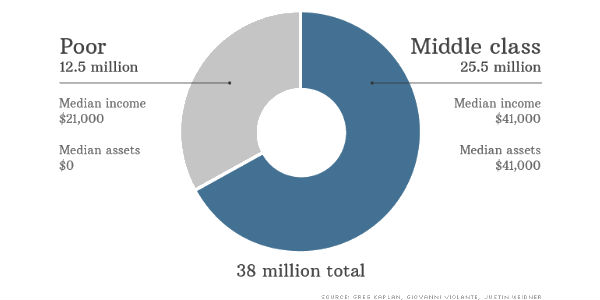 by. Tami Luhby
More than 25 million middle class American families are living paycheck to paycheck.
They have decent salaries. Many own homes and have retirement accounts. But they don't have a lot of savings or readily accessible funds, according to a recent economic study presented by the Brookings Institution.
About one-third of American households live "hand-to-mouth," meaning that they spend all their paychecks. But what surprised the study authors is that 66% of these families are middle class, with a median income of $41,000. While they don't have liquid assets, such as savings accounts or mutual fund holdings, they do have homes and retirement accounts, with a median net worth of $41,000.
"We don't expect them to be living paycheck to paycheck," said Greg Kaplan, study co-author and assistant professor of economics at Princeton University.
Poor hand-to-mouth households, by contrast, typically have incomes of $21,000 and no assets. Families that don't live paycheck to paycheck have incomes of $51,000 and assets of $116,000.
continue reading »