NAFCU at White House on housing reform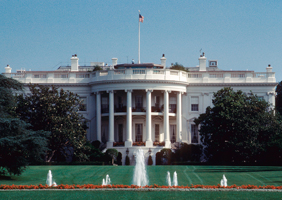 NAFCU President and CEO Dan Berger and other senior staff will meet with staff from the White House and the National Economic Council today to discuss housing finance reform and other important issues facing the credit union industry.
Attending with Berger will be NAFCU Senior Vice President of Government Affairs and General Counsel Carrie Hunt, Vice President of Legislative Affairs Brad Thaler, Director of Regulatory Affairs Mike Coleman and Chief Economist and Director of Research Curt Long.
NAFCU has met with senior White House staff multiple times over the past year to discuss housing finance reform. The association continues to advocate for credit unions' interests in any reform package, including guaranteed access to the secondary mortgage market and fair pricing based on loan quality rather than loan volume. While both the Senate Banking Committee and the House Financial Services Committee have reported different versions of housing finance reform to their respective bodies, neither chamber is expected to act further on the issue in this Congress.
continue reading »