NAFCU Board, Fed Gov. Powell cover CU issues, condition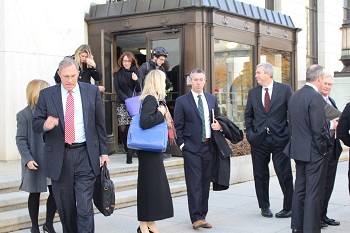 NAFCU Board members met with Federal Reserve Board Gov. Jerome Powell Thursday and shared their views on a wide range of credit union issues – including the regulatory burden, CFPB oversight and the 2014 NAFCU Report on Credit Unions – during the association's 22nd annual meeting at the Fed.
The morning meeting also included NAFCU President and CEO Dan Berger and other senior staff.
NAFCU Board Treasurer Jeanne Kucey, president and CEO of JetStream Federal Credit Union in Miami Lakes, Fla., discussed the financial condition of the credit union industry. She noted that credit union's capital levels are improving and that net worth growth of 7.1 percent far exceeded asset growth of 4.5 percent in June. She also discussed how credit unions' loan portfolios are growing and said asset quality has returned to pre-crisis levels.
Jan Roche, NAFCU Board member and president and CEO of State Department Federal Credit Union based in Alexandria, Va., discussed the credit unions' use of Federal Reserve services. She noted findings from the 2014 NAFCU Report on Credit Unions revealing that credit unions' use of the Fed's services to financial institutions showed Fedwire Funds Service and the Fed Discount Window services were among the most widely used services. She also noted from the report that more than 68 percent of survey respondents felt that Fed services were either "competitively" or "very competitively" priced.
NAFCU Board Member Martin Breland, president and CEO of Tower Federal Credit Union in Laurel, Md., discussed various legislative issues with Powell, including NAFCU's top legislative priority: the credit union tax exemption. Breland also discussed regulatory relief, data and cybersecurity, housing finance reform and member business lending. When discussing what he thought were the top regulatory burdens for the industry, Breland cited CFPB's mortgage rules and redundant privacy notices.
continue reading »