NAFCU looks ahead to lame-duck Congress, beyond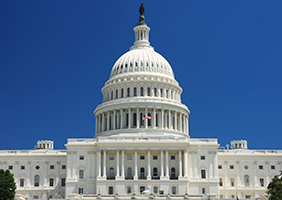 NAFCU Vice President of Political Affairs Katie Marisic said the association will continue to work with Congress on important credit union issues during the upcoming lame-duck session while preparing to work with a Republican-led Senate in the 114th Congress beginning in January.
Marisic said during the lame-duck session, NAFCU will focus on ensuring credit unions parity with FDIC-insured institutions concerning deposit insurance coverage on Interest on Lawyers Trust Accounts (IOLTAs), removing redundant annual privacy notice requirements, raising awareness about the lack of federal data security standards at retailers and other key regulatory relief items.
Looking ahead to the next Congress, Marisic said NAFCU hopes Sen. Richard Shelby, R-Ala., who will likely chair the Senate Banking Committee, and House Financial Services Committee Chairman Jeb Hensarling, R-Texas, will focus on regulatory relief efforts addressing, among other things, the overwhelming compliance burden for credit unions that stems from the Dodd-Frank Act.
"NAFCU staff and members will do outreach to all new members of Congress and their staffs to ensure they are aware of the issues credit unions face on a day-to-day basis," Marisic said. "Credit unions throughout the country continue to give their members exemplary service and offer the financial products they need and deserve. Members of Congress from both sides of the aisle understand the value of credit unions in their congressional districts and states."
continue reading »