NAFCU on the Hill for hearings on security, NFIP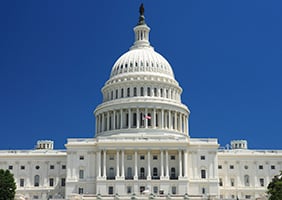 NAFCU staff will monitor hearings scheduled this week on cyber threats to the financial system, the recent hack into Office of Personnel Management records, more on on the National Flood Insurance Program and others for any developments on issues affecting credit unions and their members.
The OPM data hack was discovered in April and may have affected the sensitive data of 4 million current and former federal government employees or more. The House Homeland Security Subcommittee on Cybersecurity, Infrastructure Protection and Security Technologies will hold a hearing on Wednesday focusing on the Homeland Security Department's efforts to secure government data. On Thursday, The Senate Homeland Security and Governmental Affairs Committee will hold a hearing on the data breach, focusing on federal cybersecurity.
Wednesday will include a House Financial Services Committee Task Force to Investigate Terrorism Financing hearing on the security of the U.S. financial sector.
In other hearings, the Senate Banking Committee will hold a hearing Tuesday titled "Oversight Review of the National Flood Insurance Program," to focus on the review the committee conducted of the program.
NAFCU will also monitor hearings on regulatory issues, including: a Senate Homeland Security hearing on Tuesday titled "Accounting for the True Cost of Regulation: Exploring the Possibility of a Regulatory Budget"; and a House Financial Services Subcommittee on Oversight and Investigations hearing titled "Examining Continuing Allegations of Discrimination and Retaliation at the CFPB."
continue reading »