NCUA budget up by 4.2% for 2015, McWatters votes against it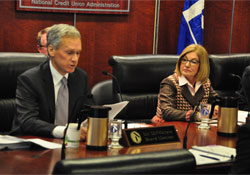 Two distinct opinions on the National Credit Union Administration's budget emerged at the agency's Thursday's open board meeting.
NCUA Chair Debbie Matz and Vice Chair Rick Metsger said they believe the budget approved by the agency is sufficient to provide the agency with the resources it needs to carry out its mission, while board member J. Mark McWatters said the agency should remain more mindful of spending credit unions' money, examine the necessity of all expenditures and make the process more transparent.
The agency's budget amount is $279.5 million, up $11.187 million (4.2%) from the previous year. While NCUA Chief Financial Officer Mary Ann Woodson said this was the lowest increase in eight years, the Credit Union National Association remains concerned that this is the eighth consecutive year the budget has increased.
"The Credit Union National Association remains very concerned that the National Credit Union Administration board has increased its budget yet again. Rather than reducing expenditures, the agency has continued to bolster its budget for eight straight years," said CUNA President/CEO Jim Nussle.
continue reading »