NextGen Know-How: Be a better leader in 2015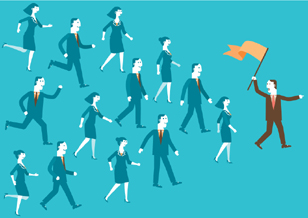 Small incremental changes will lead to bigger transformations.
by: Laurie J. Maddalena, MBA, CPCC, PHR
It's the start of a fresh, new year—the opportunity to break out of old patterns and instill new habits. For years I wrote "New Year Resolutions" and got ready to change my life when the clock struck midnight. Whether it was eating healthier, exercising more, or being a better leader, my approach was that when the page turned to January, I hit the reset button and dove into my new and improved self.
Unfortunately, it rarely worked.
When I set myself up for such drastic change all at one time, I felt pressured, overwhelmed, and ultimately discouraged. The stress of living up to this "ideal self" led me down a path of giving up easily and settling for the status quo. I wasn't all that bad, I would rationalize. But I would have a lingering feeling of disappointment that I couldn't achieve all the "goals" I had set.
I believe the reason most of us (over 92 percent!) aren't successful at implementing real change each year is because we are approaching the process all wrong. The point is that change is a process. We don't just turn the page and become a new person who magically has willpower we didn't have the year before. The best change happens incrementally.
I'm not saying don't set yearly goals. Goals are an important piece of the roadmap to changing and improving our lives.  But how we reach those goals is where most people struggle.
I have found the best approach in making big changes is utilizing the compound effect. Small incremental changes will lead to bigger transformations. Create your list of goals for the year, then under each one, create a few actions or habits to implement one at a time.
continue reading »