Onsite: NJCUL, Elvis, Cher, Michael Jackson and Credit Unions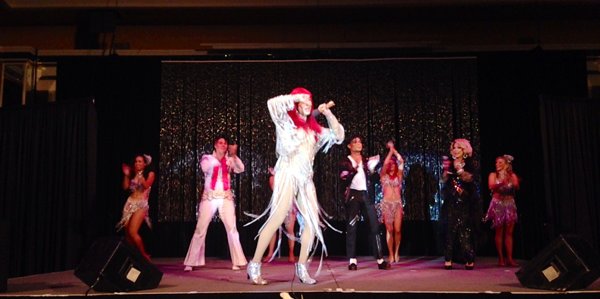 New Jersey Credit Union League President/CEO officially kicked off his first and the League's 79th Annual Meeting and Convention this week in Atlantic City.  Michlig had the crowd of over 700 laughing talking about his roots in Wisconsin and his path to the helm of the NJCUL.  Michlig also introduced the league's new initiative, Creative You, a program to help build collaboration and innovation throughout the New Jersey credit unions system.
Keynote speaker Vince Papale, the inspiration for the movie "Invincible", talked about his unlikely journey at 30 years old from a teacher and coach to making the Philadelphia Eagles.  Papale, challenged the crowd to go after their dreams and believe in themselves.
The hottest topics during the NCUA and NJ Department of Banking and Insurance Roundtable were the always popular liquidity and long-term investments.  The NCUA touched on what examiners are looking for when it comes to key ratios and projected cash flow.
There were many great breakout sessions Monday, that you can find recaps of in the NJCUL Daily Exchange.  Presenters included Me… and John Vardallas, Brett Wooden, Pierre Cardenas, John Tippets, Terry McCormick, Michael DuPont, Peter Liska, Jane Warner and Scott Butterfield.
The crowd at the awards dinner Monday night was entertained by Cher, Michael Jackson, and Elvis look-a-likes with Joan Rivers (impersonator) as the emcee.  The winning credit unions and individuals were:
CEO of the Year : Members Eileen Crean, 1st of NJ FCU President/CEO
Calvin Jackson Memorial Volunteer of the Year Award: Jack Hickey, Jersey Shore FCU Board Director
Catherine L. Miller & Alexander Kosobucki Marketing Award (tie): Credit Union of New Jersey and Bay Atlantic FCU
Difference Maker of the Year: Tom Quigley, Director of Marketing at XCEL FCU
Dora Maxwell Social Responsibility Community Awareness Award: First Financial FCU
Louise Herring Philosophy in Action Member Service Award: Credit Union of New Jersey
Desjardins Youth Financial Education Award: Raritan Bay FCU