Nominate a Credit Union Rock Star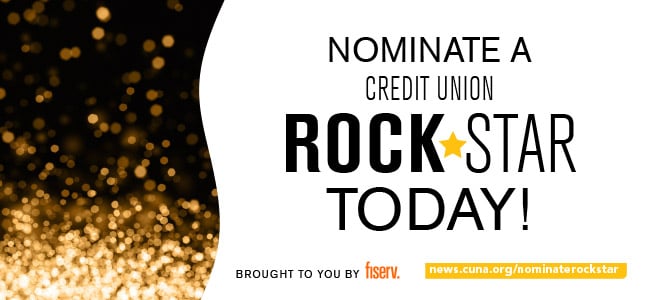 Twitter campaign to feature 30 CU Rock Stars in 30 days.
Each year, Credit Union Magazine recognizes the credit union movement's Rock Stars: Those unique, innovative people who excel in their areas of expertise—and by doing so make our movement a better, more interesting place.
It's time to nominate this year's class of Credit Union Rock Stars.
Do you know someone who fits the bill—yourself, perhaps? If so, visit our nomination page to tell us:
How this Rock Star has raised the bar on creativity, strategy, and execution in her/his area of expertise?
What can the credit union movement learn from this Rock Star?
What would this Rock Star be doing if he/she wasn't part of the credit union movement?
What are three things that make this Rock Star unique?
What will this Rock Star be doing 10 years from now?
Those selected as credit union rock stars will be featured in Credit Union Magazine and on news.cuna.org/rockstar.
continue reading »