Nussle on Bloomberg: Credit unions best suited to meet consumers' financial needs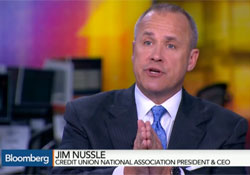 CUNA President/CEO Jim Nussle refuted point-by-point longstanding misunderstandings about credit unions in an appearance on "Bloomberg Surveillance" Friday.
During his appearance , Nussle cleared up some common misconceptions about credit unions, and explained why the cooperative model is best suited to meet the financial needs of the underserved.
"What we do may look like a bank, but how we do it and who we do it for are completely different than a bank model," Nussle said. "How we do it is not-for-profit. All the banks are for-profit."
"It's not about how big they are, it's who they serve and how they do it," he said. "But size and scale can really help you support under-served populations and go into areas with a branch (where) maybe you couldn't go before."
Nussle pointed to several examples of how the cooperative model better serves consumers.
continue reading »