Onsite: BAI Payments Connect Conference 2015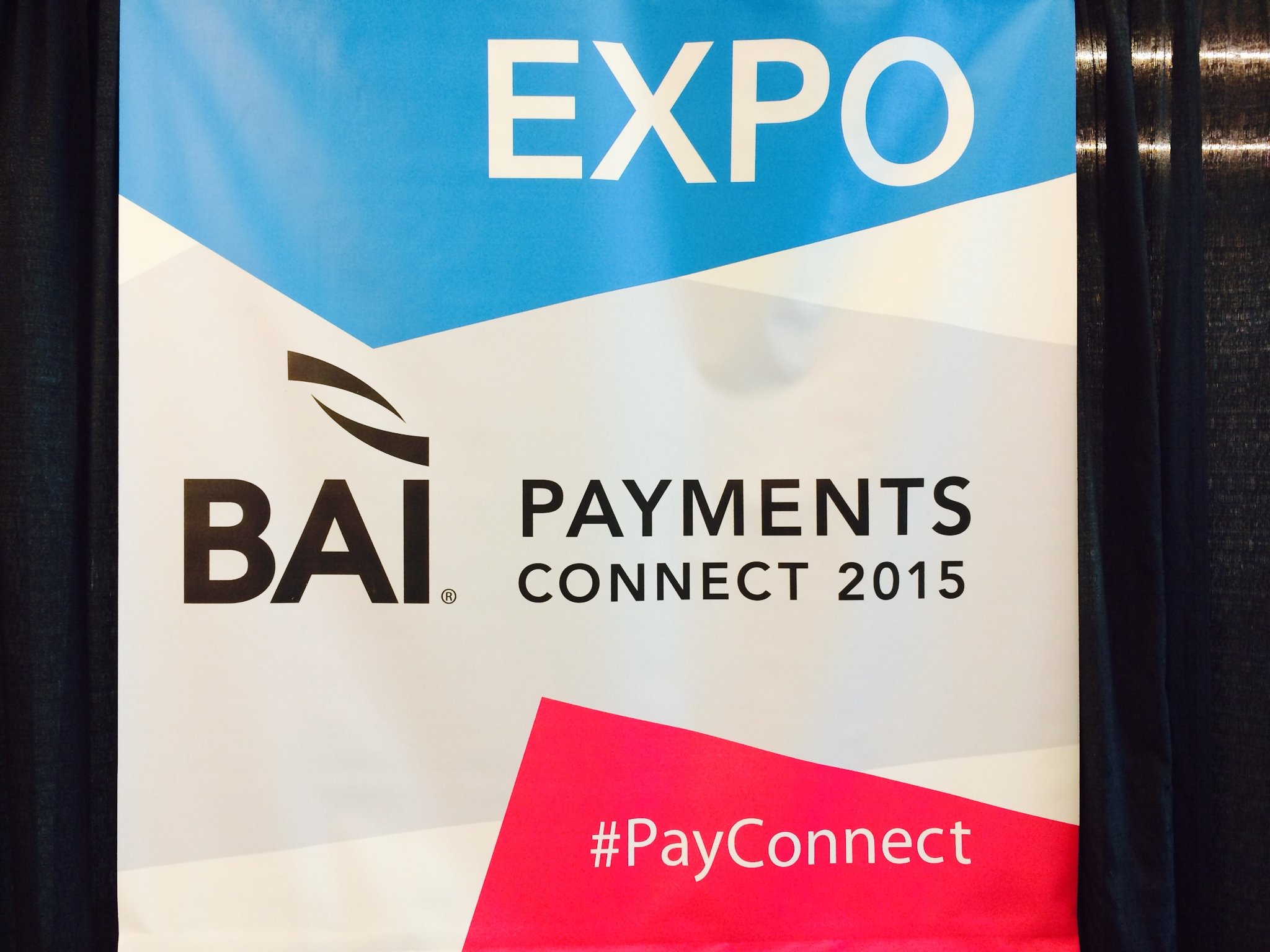 Another great BAI conference has just concluded. BAI held their annual Payments Connect conference in Phoenix AZ. This year's agenda had industry experts and vendors discussing the latest payments regulations and challenges that financial institutions are facing. BAI did an excellent job of providing quality content that provided actionable ideas participants could take back and implement.
There were several tracks to choose from. Attendees weren't limited to just one. Which was great. I talked with several people who attended sessions in all of the tracks.
The first track pertained to payments strategy and consumer insights. Some of the key topics were: the latest shifts in payments preferences and mobile adoption, what researchers and regulators have to say about consumers' evolving needs, and building relationships with emerging competitors like Twitter and Apple Pay. MasterCard provided a great presentation about the demand for immediacy and the implications of innovation. Today's consumers want immediate access to their money in a variety of ways. How are you meeting their needs?
The second track discussed the future of payments fraud. Sessions were geared toward finding new ways to secure digital information and reducing fraud exposure. These two topics may sound easy, but with payments happening at a much higher rate than just a few years ago, it can be difficult to achieve. Attendees in this session discussed how their financial institution could reduce cyber crime and fraud, and they listened to the Fed outline their vision for the future and the potential fraud impact that comes with faster payments.
The third track was a little more technical. Discussing how digitization is changing the payments operations space. Check image and remote deposit capture technology is evolving and really taking off. Both consumers and business want to the leverage the power of RDC. The presenters discussed how to address RDC duplicates and how to make business deposits mobile. Also discussed were options for responding to financial product and service patent threats, the regulatory impact on payment processing, and what Apple Pay means for your financial institution's mobile technology and security.
The conference offered a unique fourth track, digital day. Presentations in this track provided up to date information about the technology behind digital payments systems. The key discussion points were partnering for success in the payment space, preparing for the next big digital disruption, how payments are disappearing into apps, and why financial institutions, merchants, and customers must work together for the future. Fiserv and US Bank did an interesting presentation on the evolution of money movement. Payment processing has come a long way and is still maturing. Today's consumers expect speed and don't want to wait for payments to catch up. What is your financial institution doing to keep everyone satisfied? Or are they?
BAI's Payments Connect conference is a must go to conference for any financial institution that processes payments. I would also say it's a great conference for any financial institution. Attendees are sure to come away with some great ideas and learn about new solutions to help implement those ideas.
Disclaimer: Information contained in this article obtained from the conference agenda, BAI website, and our first hand experience at the conference.
David Miller is one of the founders of CUinsight.com, your one stop place for all things credit union. He has been involved with the credit union community for over ...
Web: www.CUInsight.com
Details