Onsite: Day one at CUNA GAC 2015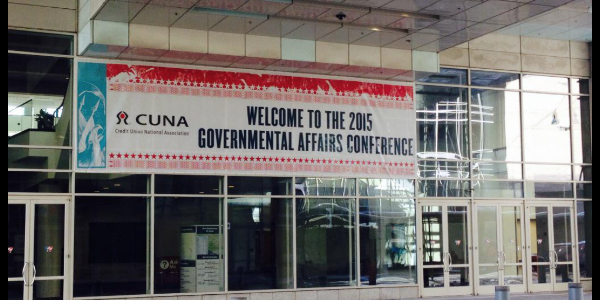 The credit union world has descended upon Washington! Maybe it's the good weather, the boost in the economy, or the just a reminder that we do in fact work in the greatest industry imaginable; but this GAC just feels amazing.
Jim Nussle, CUNA CEO, has dictated that this GAC marks a new chapter of advocacy, and that we need to embrace the fact that we are living in a fast-paced, social world. He's been making the rounds himself with a GoPro attached to his tie to reinforce the point. His request to credit unions is simple – step up your game! Need inspiration or ideas? You need only look back to CUNA, as they are a prime example of practicing what they preach.
Innovation is seen in every nook and cranny of the exhibit hall, as everyone has pulled out all the stops this year. It's such a unique experience to stand at the entry doors and realize that no matter how big or small your credit union is, how fancy   your booth is, what state you are from, we are here on the same team. WE are making an impact on our communities, WE are providing financial education, and WE are 100 million members strong.
This week we will reignite our passion. Say hello to old friends and make lifelong new ones. We will learn and grow; taking concepts and ideas back to our homes to add more fuel to the credit union fire. We will unite as one and make our voices heard on Capitol Hill while fighting back attempts to eliminate our tax exemption. If you are attending, savor every moment and make the most out these few days, and if you weren't able to attend involved yourself anyway! As mentioned earlier, it's a social and digital world! Add #CUNAGAC to your twitter feed, check out the news, and immerse yourself from afar; after all the fight doesn't end in Washington this week, so start the fires at home.
More from day one at CUNA GAC from Credit Union Magazine:
Matz Calls 2015 the Year of Reg Relief
More Scenes from CUNA's 2015 GAC
Dennis Pierce: 'Members Must Be Advocates'
'Hello, the Foundation Loves you'
Ari Fleischer: D.C. Gridlock an 'Aberration'
Your Say: How Do You Remove Barriers, Foster Service Excellence?
Scenes from the GAC Exhibit Hall
Advocacy Gives CUs, Members a United Voice
Amanda Reed is the Associate Publisher at CUInsight.com. As an associate publisher, Amanda works with professionals throughout the credit union industry to find new and innovative ways to spread ...
Web: www.CUInsight.com
Details