Onsite: Regulatory relief hot topic at NAFCU Annual in Montreal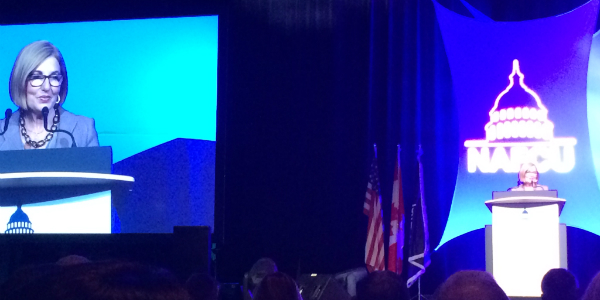 The NAFCU Annual Conference is in full swing in Montreal (if you've never been it's an amazing city, add it to your must see list), with the largest turn out ever; in fact 100 more came than were actually registered!
In today's general session Chairman Debbie Matz, from The NCUA spoke on a topic that has been front and center of many conversations within the industry; regulatory relief. She acknowledge that there is a still a long way to go, but that the goal and theme is simple: Give the decision making power back to the credit unions, so that we can strengthen them for generations to come.
In her speech she highlighted 6 ways that The NCUA is working to give that control back to the credit unions, and while regulatory relief might make you groan in pain now, I am confident that much of this list will have you nodding with approval.
Expand the field of membership: Credit unions are going to have the power to expand their current field of membership WITHOUT having to wait for NCUA approval.
Remove the fixed asset limit: There are certain costs and improvements you need that just can't be avoided and need to happen to help your credit union run smoothly; now you can do those things WITHOUT so much red tape holding you back.
Permit Asset Securitization (pretty straight forward)
Easing Member Business Lending: Credit unions are going to establish their own lending limits, in fact NCUA is going to be completely removed from the process and no personal guarantees will be required.
Supplemental Capital: This will be effective in 2019, except for credit unions that are designated low-income, because they can't afford to wait until 2019.
Exemption: The limit will be raised to exempt credit unions up to $100 Million (meaning 3 out of 4 would qualify).
Credit unions, the ball in being placed in our court; we need to take these opportunities and run with them. We've been asking for more control and the bottom line of this session was that you know your members needs better than the NCUA and they recognize that. While these victories are great, the NAFCU Regulatory panel reminded us that there is still a long road ahead of us! Continue to stay active and involved with your senators. Continue to share your stories and make your voices heard. We have a powerful message, let everyone hear it.
Amanda Reed is the Associate Publisher at CUInsight.com. As an associate publisher, Amanda works with professionals throughout the credit union industry to find new and innovative ways to spread ...
Web: www.CUInsight.com
Details