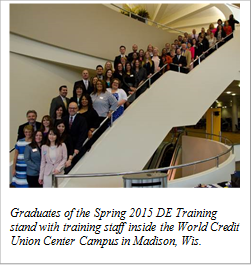 47 credit union professionals become certified CU Development Educators (CUDEs)
Foundation's CU Philosophy Training held in Madison
MADISON, WI (May 12, 2015) — Forty-seven credit union professionals, one of the largest classes yet, became Credit Union Development Educators (CUDEs) after being guided by dedicated program facilitators and mentors through the intensive Credit Union Development Education (DE) Training from the National Credit Union Foundation (the Foundation). The Spring DE training was held April 29-May 6, 2015 at the Lowell Center on the University of Wisconsin campus in Madison, Wis.
After attending the Spring DE Training, Doug Bedner, Chief Operating Officer of Resource One CU in Dallas, Texas, said, "So many of us get caught up in learning how to do our jobs that we never truly reflect on why. The DE program helped me to understand why credit unions are here to serve.  This was more than a conference. It was an awakening to the credit union movement."
Team Projects
DE Training provides critical lessons in cooperative principles, credit union philosophy and international development issues while incorporating challenges credit unions face today. During the recent week-long program, participants were involved in group exercises, field trips, discussions with speakers from around the credit union system, and are required to complete team projects proposing solutions for credit unions to help alleviate or eliminate challenging situations in any given area. For this class' final case studies, participants worked through and presented solutions to critical issues that included opening an Islamic banking center, board development and recruiting including the debate over compensation, credit union solutions to predatory lending, microfinance to women in Africa, building member engagement for growth, and a small credit union merger dilemma.
2015 Fall DE Training Registration Already Filled
"The strength of the DE program is growing, and we are excited to have already filled up the Fall DE program," said Lois Kitsch, Spring DE Training co-facilitator and National Program Director for the Foundation. "We will soon open registration for the 2016 DE Training sessions."
For professional interested in 2016 DE Training, visit ncuf.coop to learn more about the program and upcoming registration dates, or you can email cude@ncuf.coop to be put on a notification list.
Class Graduates
The Spring 2015 DE graduating class included credit union movement representatives from across the U.S, as well as a representative from Trinidad and Tobago. They are: Joshua Alberto, Houston Highway CU in Texas; Hayley Andrews, Verity Credit Union in Washington; Doug Bedner, Resource One CU in Texas; Heather Bessert, Allegan Community FCU in Michigan; Rhonda Bouldin, Peoples Trust FCU in Texas; Melissa Burleson, Tarrant County's CU in Texas; Dan Finerty, Mountain West Credit Union Association in Colorado; Greg Floyd, Old West FCU in Oregon; Angelica Garcia, Guadalupe CU in New Mexico; Kristina Grebener, Credit Union National Association in Wisconsin; Liz Henderson, Maps CU in Oregon; Crow Hunter, Peach State FCU in Georgia; David Jacobs, Coastal Federal Credit Union in North Carolina; Katie Karls, Premier Financial CU in Wisconsin; Jerold Labeaux, Peoples Trust FCU in Texas; Mia Martell, Pyramid FCU in Arizona; Damian McIntosh, Peoples Trust FCU in Texas; Summer McKanstry, League of Southeastern Credit Unions in Florida; Marina Miller, SchoolsFirst FCU in California; Meghan Miller, Credit Union National Association in Wisconsin; Stephanie Miller, Communication FCU in Oklahoma; Tyler Miller, Illinois Credit Union System in Illinois; Melanie Murphy, Illinois Credit Union System in Illinois; Len Naidoo, Catalyst Corporate FCU in Texas; Emily Nail, High Plains FCU in New Mexico; Ryan Neumann, Streator Onized CU in Illinois; Thuy Trang Ngo, Fairfax County FCU in Virginia; Jess Noelck, CUNA Mutual Group in Wisconsin; Nathalie Phillips, Cathedral Credit Union Co-Operative Society Ltd. in Trinidad and Tobago; Shana Richardson, Ser Technology Corporation in Texas; Britni Romero, Guadalupe CU in New Mexico; Mona Russell, Suncoast CU in Florida; Scott Sager, Trona Valley Community FCU in Wyoming; Matt Schmidt, Los Alamos Schools CU in New Mexico; Connor Shay, GTE Financial in Florida; Greg Sill, CUNA Mutual Group in Wisconsin; Tracy Singleton, Local Government FCU in North Carolina; Pamela Stephens, Texas Trust Credit Union in Texas; Anne Sutton, Cove FCU in Kentucky; Mike Tambourine, Resource One CU in Texas; Jackeline Tamez, Houston Highway CU in Texas; Jane Thomas, Maine Credit Union League in Maine; Gary Vien, Suncoast CU in Florida; Karen Viets, Metropolitan District ECU Inc. in Connecticut; Julie Waller, Coastal Federal Credit Union in North Carolina; Nanci Wilson, North Star Community CU in North Dakota; and Shannon Workman, SchoolsFirst FCU in California.
More Spring DE Training Testimonials
"As I work to craft stories designed to build an emotional connection with members and citizens far beyond the features and benefits of our products and services – it is the DE Training experience which will make all of the difference in making a difference," said Tyler Miller, Director of Brand Marketing for LSC in Naperville, Ill.
"DE Training is a solid foundation on which to explore the present and future of cooperative finance," said Damian McIntosh, Chief Information Officer at People's Trust FCU in Houston, Texas.
"DE Training has been a life-changing experience for me," said Karen Viets, CEO/Treasurer of Metropolitan District ECU in Hartford, Conn. "It has re-kindled a passion and prepared me to share it with others.  From getting down to the basics of the credit union movement and the cooperative principles to life lasting relationships with others that are working for that same common goal. It was the best experience of my life!"
---