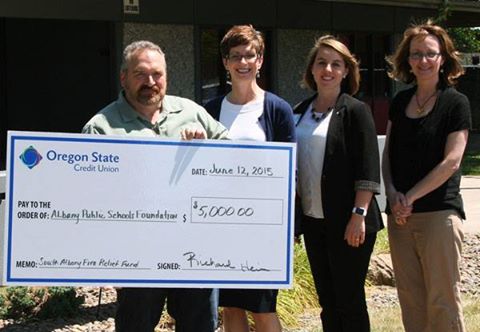 Oregon State Credit Union provides relief to fire victims of South Albany High School arson
ALBANY, OR (June 25, 2015) — Albany Public Schools Foundation's Aimee Addison and South Albany High School Principal Brent Balveal extended a big "thank you" to Oregon State Credit Union's Albany-based branch managers Kari Goodyear and Faylene Gardner as the credit union wrote a check to SAHS for $5,000. These funds will be used to provide items that the cheer leading and dance programs (pictured below) need to rebuild their programs after the devastating April 1st fire (the arson fire destroyed a gymnasium and storage areas for many of the extracurricular programs at South Albany High School — see photo below).
Photo caption: Brent Belveal (SAHS principal), Oregon State CU Albany Branch Manager Faylene Gardner, North Albany Branch Manager Kari Goodyear, Aimee Addison (APSF).
---