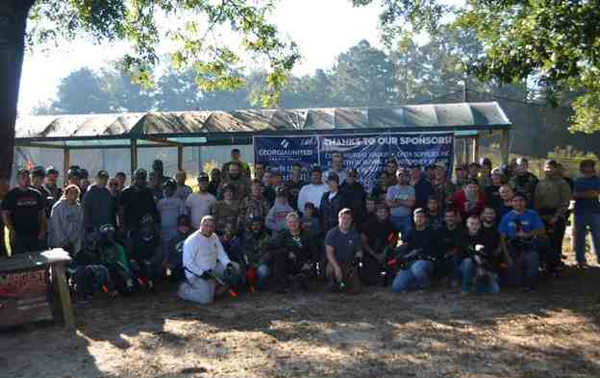 Georgia United Credit Union raises $10,000 for CUPAC in 11th Annual Paintball Tournament
DULUTH, GA (October 7, 2013) — Georgia United Credit Union's annual Credit Union Paintball Tournament continues to bring in significant dollars to support the Credit Union Political Action Committee (CUPAC) Fund.  A popular alternative to a traditional golf tournament fundraiser, the 2013 Georgia United Paintball Challenge raised approximately $10,000, after all expenses.
This was the eleventh year that Georgia United has hosted the tournament and has invited other local credit union employees and sponsors to participate. This year's tournament consisted of 10 teams of 7 players each, competing in a "round robin" elimination tournament for this year's coveted trophies.  This year's winning team was DOCO Credit Union from Albany. The event was held at Paintball Atlanta in Alpharetta on Saturday, October 5.
Doug Foote, Georgia United's President & CEO, commented, "Each Georgia United Paintball Challenge has proven to be a big success.  People love a good competitive game, but it's even better when you're playing to raise money for a worthwhile cause.  We especially appreciate our Premier sponsors – CUNA Mutual; Data Supplies Inc.; Ken Rutan, PC; Peachtree Benefits and Sterne Agee."
About Georgia United Credit Union
Georgia United Credit Union is ranked as one of the top credit unions in Georgia with over $960 million in assets and sixteen branch locations across the state.  Their mission is to save members time and money. Georgia United Credit Union is federally insured by the National Credit Union Share Insurance Fund (NCUSIF) up to $250,000 per account.
 
Georgia United serves all state agency employees, Board of Regents schools, Georgia adult and technical education schools, 10 county school systems, 450 employee groups, as well as faculty, staff, students and alumni of the University of Georgia.
 
Additional information may be located at georgiaunitedcu.org.
---