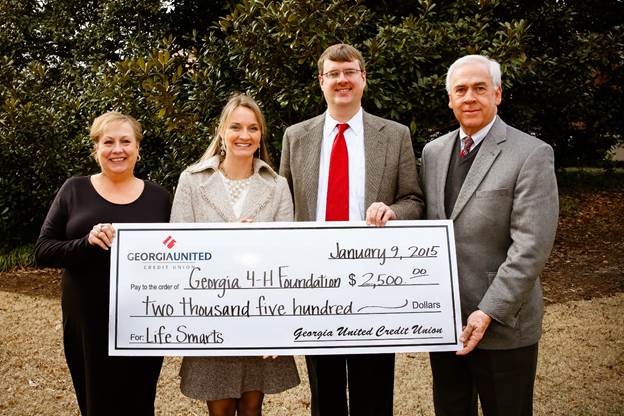 Georgia United Credit Union sponsors Georgia 4-H Life Smarts Program
ATHENS, GA (January 16, 2015) — Georgia United Credit Union presented $2,500 to the Georgia 4-H Foundation to sponsor the 4-H LifeSmarts Financial Literacy Program for 2015.  The Life Smarts program helps students grow critical money management and life skills through online study and district competitions.
About Georgia 4-H LifeSmarts Program
Georgia 4-H is a unit of the University of Georgia College of Agricultural and Environmental Sciences Cooperative Extension Service.  LifeSmarts is an educational competition program provided by Georgia 4-H and the National Consumers League. The program teaches consumer literacy skills needed to succeed in today's marketplace including personal finance.  Through various partnerships and programs, LifeSmarts reaches over 125,000 teens a year both online and in classrooms nationwide.  To learn more, visit their web site at http://lifesmarts.org.  Georgia 4-H is the leading youth organization reaching over 165,000 young people across the state who are learning and growing as future leaders in their community, their country, and their world.  To learn more about Georgia 4-H or to make a donation to support this program, visit www.georgia4h.org or call 706.542.4444 
About Georgia United Credit Union
Georgia United Credit Union is ranked as one of the top credit unions in Georgia in both size and safety at $990 million in assets, 128,000 members and 16 branches, including two in Athens.  Georgia United seeks to make members' lives easier by offering products, services and education to help members meet their needs and achieve their goals.
Georgia United Credit Union serves all State Agency employees; Board of Regents colleges and universities including faculty, staff, students and alumni of UGA;  residents of Clarke County, employees of over 500 companies and 11 county school systems including Clarke County School District. 
---