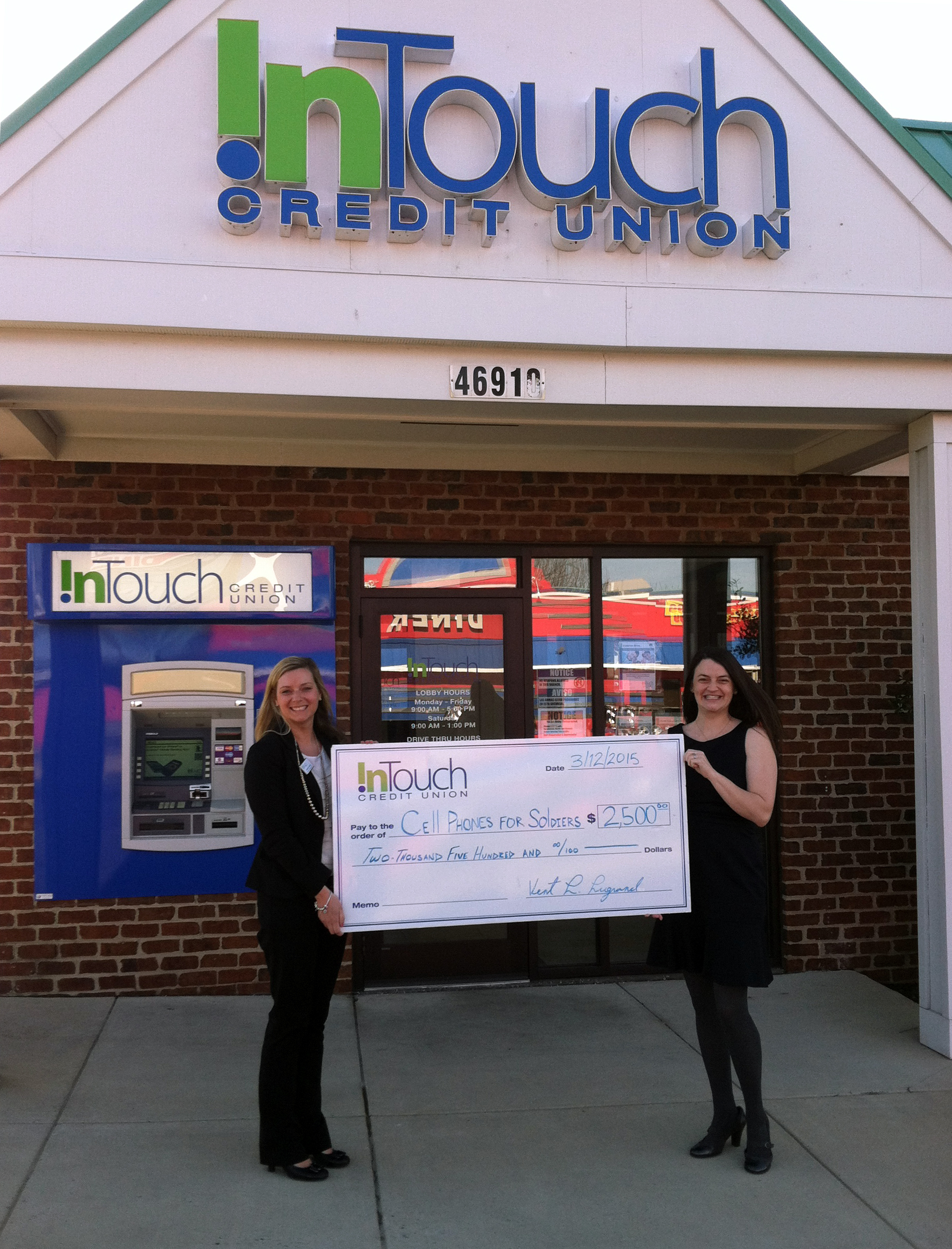 Intouch Credit Union to present $2,500 check to cell phones for soldiers
The Credit Union will offer the results of their holiday donation drive on Thursday, March 12 in Sterling
PLANO, TEXAS (March 11, 2015) — InTouch Credit Union (ITCU) is excited to announce a check presentation to be held for Cell Phones For Soldiers® (CPFS) Thursday, March 12 at 9:30 a.m. at the ITCU Sterling Branch, located at 46910 Community Plaza Sterling, Virginia 20164. Lindsay Argo, Assistant Vice President of Regional Branch Operations will present the check to Cell Phones For Soldiers.
ITCU began their latest donation drive for Cell Phones For Soldiers in October 2014 and true to the spirit of the season, kept the drive going through almost the end of the year. InTouch first began their work with CPFS earlier in 2014, as the Credit Union "cell-ebrated" their 40th anniversary. In the spirit of the credit union way of being, "not for profit, not for charity, but for service," InTouch Credit Union and their members previously donated a total of $4,000 to Cell Phones for Soldiers, along with several hundred cell phones and accessories.
Cell Phones For Soldiers is a 501(c)(3) nonprofit organization that collects donated cell phones, which they then refurbish or recycle in order to purchase prepaid international calling cards for troops overseas to connect with their loved ones at home. On average, the funds earned through these phone donations generate 30 minutes of talk time per dollar.
Robbie Bergquist founded CPFS with his sister, Brittany Bergquist, when he was just 12-years-old. Over the past decade, they have provided more than 213 million minutes of free talk time for U.S. servicemen and women stationed overseas. Robbie, now 22, recently graduated from the University of Massachusetts-Amherst.
For their latest donation drive, ITCU offered a matching donation to CPFS of $1 per cell phone received, as well as a dollar for dollar match of any monetary donations received from the public, up to a total of $2,500. During the drive, credit union branches collected numerous cell phones and phone accessories. While they did not reach their goal of 2,500, the Credit Union still decided to go beyond its matching promise and donate a total of $2,500 to the organization, including any donations made by the membership.
---