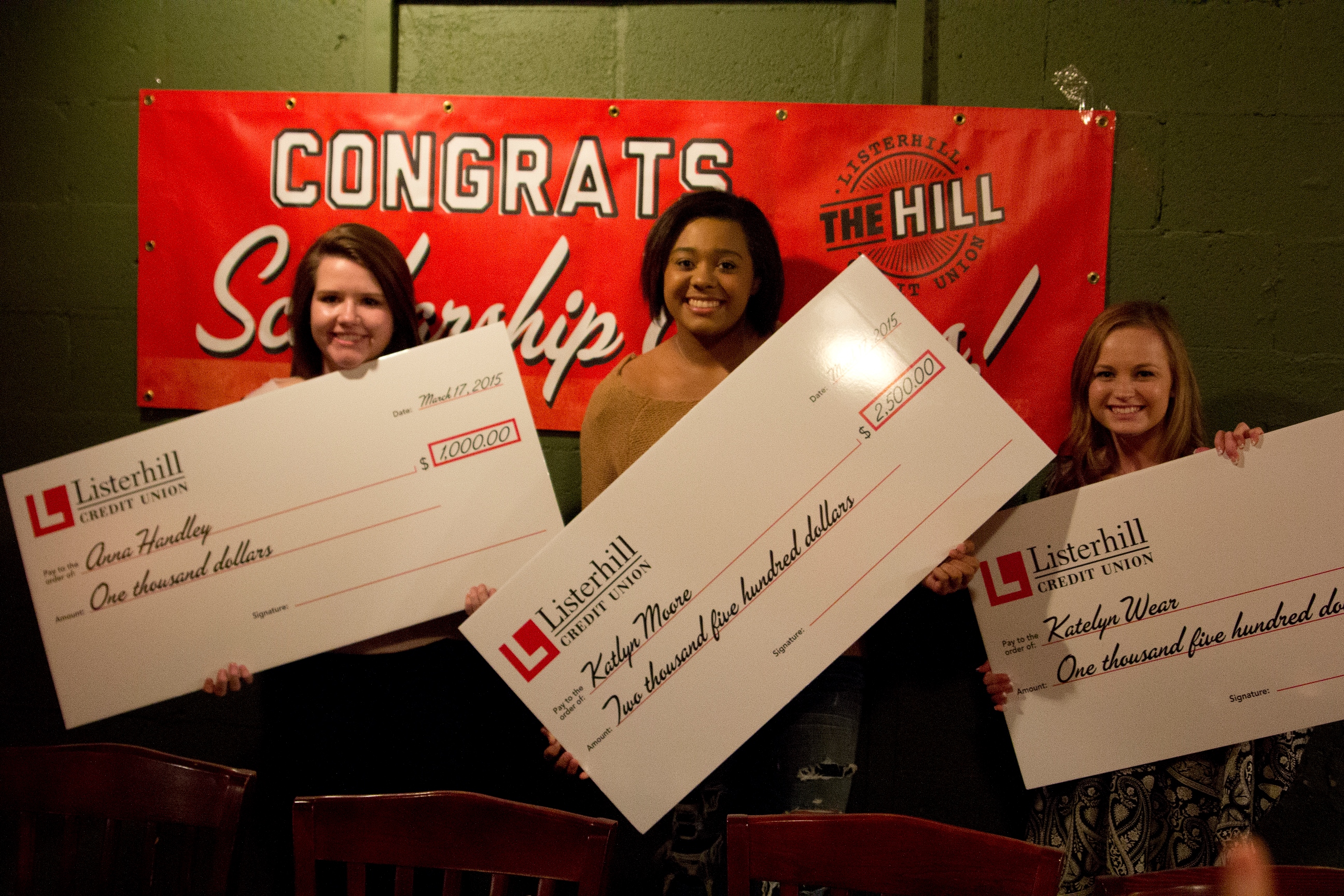 Listerhill announces scholarship, Instagram contest winners
MUSCLE SHOALS, AL (May 12, 2015) — As a not-for-profit financial institution, Listerhill Credit Union not only returns its profits to members in the form of lower rates, fewer/lower fees, and higher dividends on deposits, but it also commits hundreds of thousands of dollars to support local communities through sponsorships, charitable donations, and financial literacy initiatives.
Listerhill is dedicated to promoting the credit union philosophy as well as advancing its mission to serve the community through support of educational scholarships. One way that Listerhill does this each year is by sponsoring a unique scholarship contest via Instagram.
"Listerhill is proud to support young men and women who have made it their mission to serve others in life and have worked hard to further their education," said Brad Green, President/CEO of Listerhill. "Their examples personify what makes the credit union philosophy of 'People Helping People' so special."
Thirty individuals headed to a post-secondary institution for the 2015-2016 school year submitted scholarship applications for the contest, which required a 15-second Instagram video from each applicant describing how they would use their educations to help others. From this field, three outstanding winners were chosen to receive one of three scholarships, all totaling $5,000: $2,500 to Katlyn Moore of Sheffield, $1,500 to Katelyn Wear of Killen, and $1,000 to Anna Handley of Sheffield.
"It's an honor to receive this scholarship from Listerhill," said Katyln Moore, who will be enrolled at Auburn this fall. "I'm a big believer in using one's education to help others and give back, and Listerhill has helped to make this possible because they are a credit union that embodies paying it forward and giving back to the community."
Listerhill recently announced the scholarship winners at a surprise dinner held for the winners and their families in downtown Florence.
The winner of the iPad Air® was Kelsey McCraw of Tuscumbia, who received over 6,300 likes on her Instagram video.
To view some of the videos produced by the scholarship applicants, please visit The Hill contest page.

About Listerhill Credit Union
Listerhill Credit Union is a not-for-profit, member-owned financial institution. Founded by Shoals residents 63 years ago, Listerhill has grown to include 84,000 members, $676 million in assets and 18 branches serving northwest Alabama and south central Tennessee. For more information, please visit www.listerhill.com or call 800-239-6033.
---