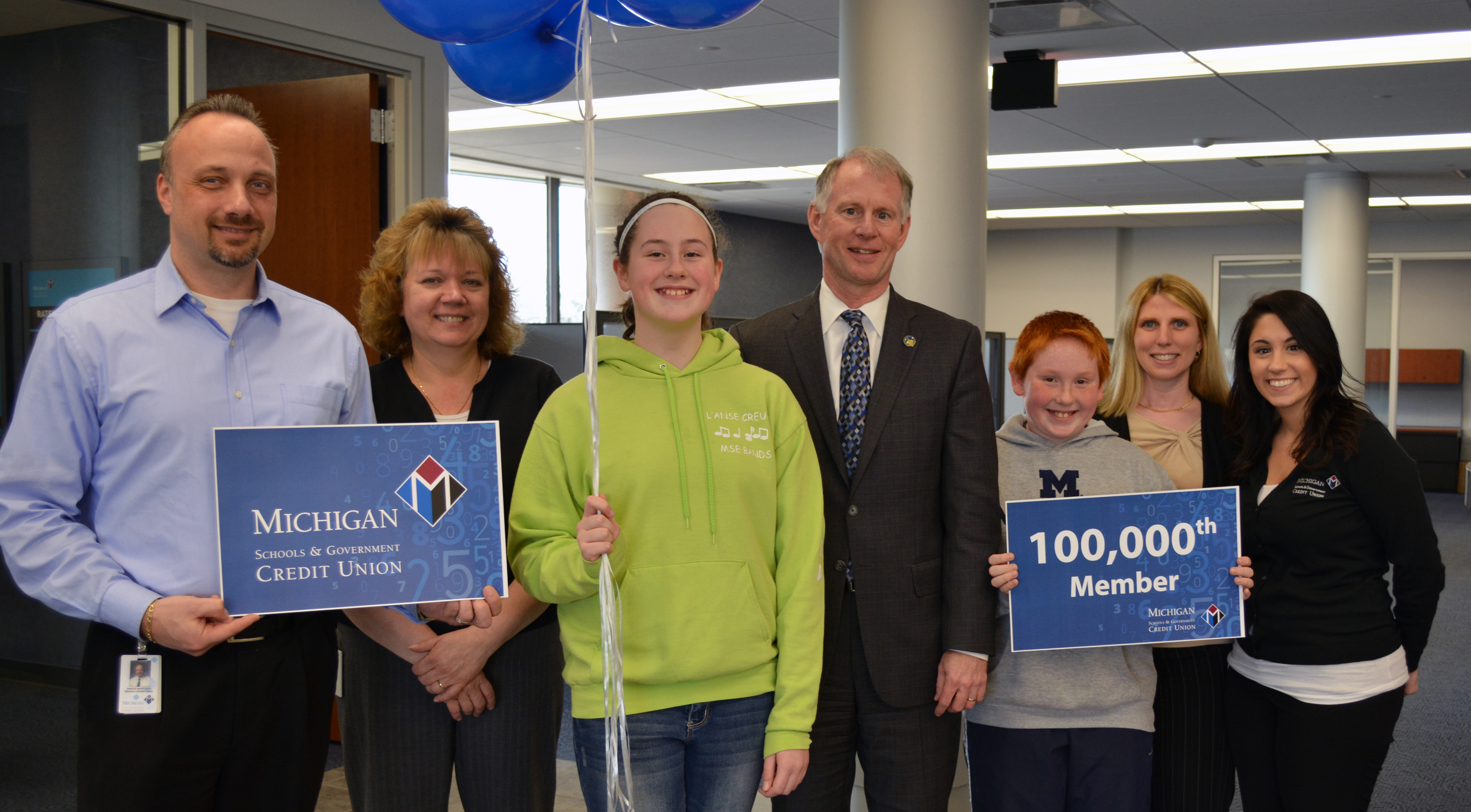 Michigan Schools and Government Credit Union reaches milestone of 100,000 members
CLINTON TOWNSHIP, MI (April 14, 2015) — An afternoon visit to Michigan Schools and Government Credit Union (MSGCU) turned into a celebration for two Chesterfield students as they were honored for being MSGCU's 100,000th (and 100,001st) member.
Morgan Freshney (12), and her brother Dawson (10), arrived at the Main Office branch with their mother on Friday, April 10 to open new memberships and savings accounts at MSGCU.
"While we were prepared to honor our 100,000th member, we quickly adjusted our plan when Morgan and Dawson arrived together," said Darius Mikalonis, Branch Manager.  "They are the future of MSGCU and we were thrilled to have them both as our honored members for this momentous occasion."
"When MSGCU was founded 60 years ago, we had 12 members," said President and CEO Peter Gates. "Our growth is a testament to the strength of our institution and, more importantly, the loyalty of our members."
It has been a year of milestones for MSGCU.  In addition to celebrating 60 years of business, MSGCU was named Outstanding Credit Union of the Year (by MCUL) and a Top 100 Workplace (by The Detroit Free Press).  They are preparing to break ground for their 12th branch on the Livonia/Farmington border, which is scheduled to open before the end of the year.
Photo caption: From left to right: Branch Manager Darius Mikalonis, Assistant Branch Manager Kirsten Poreda , Morgan Freshney, MSGCU President and CEO Pete Gates, Dawson Freshney, Member Service Representative Jacki Bretz and Member Service Representative Stefanie Throckmorton.
About Michigan Schools and Government Credit Union
Recently named Outstanding Credit Union of the Year (2015), MSGCU has been providing quality financial services to the community for more than 60 years.  Founded by a small group of educators, MSGCU offers a full range of loan, savings and checking, credit card, mortgage and insurance products for consumers and businesses. With 11 offices in Macomb and Oakland Counties, MSGCU has more than 100,000 members, $1.5 billion in assets and has earned 97% member satisfaction ratings for the past ten years. MSGCU has also earned five stars, as reported by BauerFInancial, for more than 20 years.
For more information about MSGCU, visit www.msgcu.org or call 586.263.8800 or 866.MSGCU4U.
---