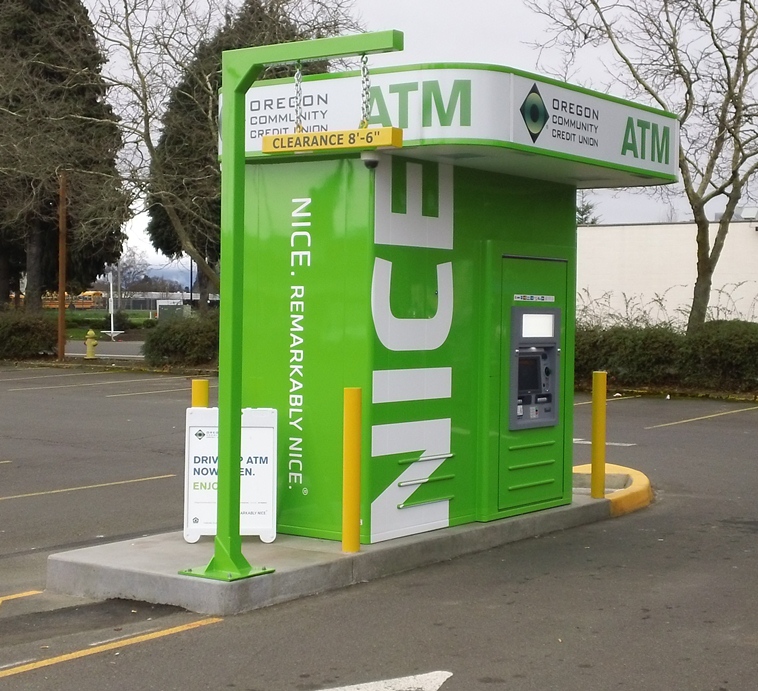 Oregon Community Introduces New Kiosk-Style ATM
EUGENE, OR – Oregon Community Credit Union has introduced a new state-of-the-art ATM in Springfield, OR. In addition to being a drive-up ATM, it offers new features that will make the overall ATM experience more enjoyable.
Not only did the ATM receive a visual upgrade, it has deposit enhancements as well. It does not require a deposit slip or envelope when making a deposit. Users can insert their cash/checks directly to the ATM and it will add up the deposit amount and display an itemized breakdown on the receipt. If a check is deposited, it will give the option of printing out a receipt with either a picture of the deposited checks or an itemized breakdown.
The bright green ATM is easily recognizable and conveniently located in a central parking lot. It has a large color monitor that doubles as a touch screen and allows members to use it from the comfort of their car. This ATM is the first of OCCU ATM's to have the deposit enhancement technology.  OCCU plans to upgrade all of its ATM's with this new technology in the future.
Oregon Community Credit Union, founded in 1956, provides a full range of investment services; mortgages, auto and home equity loans; and checking, savings, certificates and money market accounts. Oregon Community Credit Union operates 9 branches in Eugene, Springfield and Salem. Membership is open to anyone who lives or works in Benton, Clackamas, Columbia, Lane, Linn, Marion, Multnomah, Polk, Washington and Yamhill counties. Oregon Community Credit Union is an Equal Housing Lender and is Federally Insured by NCUA.
---