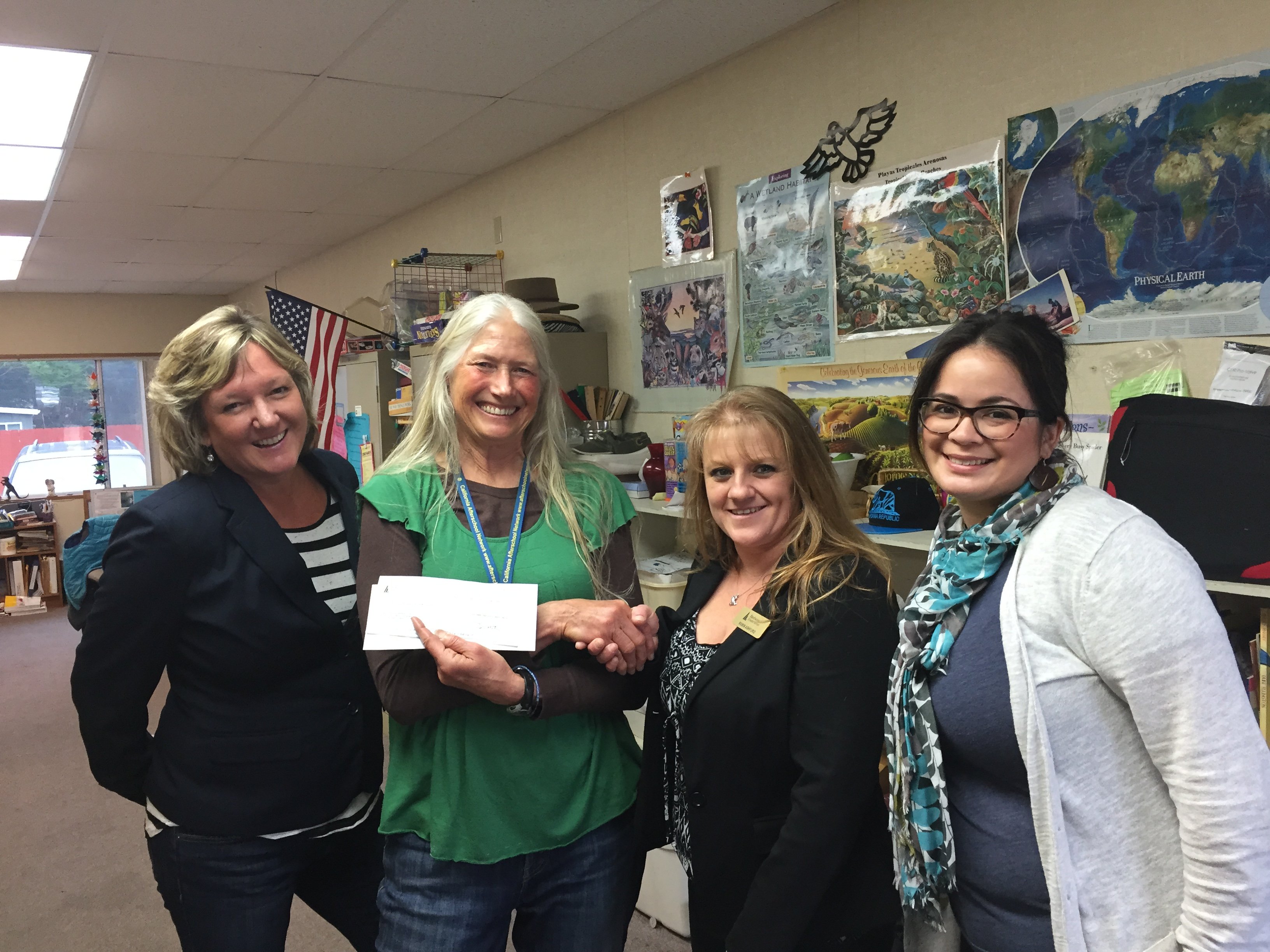 Redwood Credit Union Supports Kudos After School Program
Grant to support Point Arena children's program
Point Arena, CA  (March 9, 2015) — Redwood Credit Union (RCU) recently donated $1,500 to support Arena Union Elementary School's Kudos After School Program in the coastal community of Point Arena, CA. RCU's Point Arena Branch Manager Robin Ashford, Community Assistant Vice President Meg Cadiz and Community Coordinator Briana Gonzalez presented a check to Kudos Director Kim Swenson to support their after-school program. The Kudos program serves over 90 elementary school-age children per day in Point Arena, and also provides ongoing support to local families.
"Kudos is an invaluable resource in Point Arena, and offers project-based activities and field trips with an environmental, artistic, healthy eating and active living focus, which we believe helps students gain a well-rounded education that will benefit them for life," Ashford said.
Kudos will soon include a money management component to their program, supported by RCU's Point Arena branch staff.
About Redwood Credit Union
Founded in 1950, Redwood Credit Union is a full-service financial institution providing personal and business banking to anyone living or working in the North Bay or San Francisco. As a financial cooperative focused on people not profit, RCU offers complete financial services including checking and savings accounts, auto and home loans, credit cards, online and mobile banking, business services, commercial and SBA lending, investment and financial planning services and more. The Credit Union also offers a variety of insurance products and discount auto sales through their wholly-owned subsidiary. RCU has $2.5 billion in assets and serves over 240,000 Members with full-service branch locations from San Francisco to Ukiah, more than 30,000 fee-free network ATMs nationwide, and convenient, free online and mobile banking. For more information, please call 1 (800) 479-7928 or visit www.redwoodcu.org.   
About Kudos
The Point Arena Kudos After School Program provides field trips and project-based learning opportunities for elementary school students. With an average daily attendance of 92 students, Kudos serves a diverse population with extra-curricular experiences like art, dance, gardening, computer skills, sports and science.
Photo caption: Redwood Credit Union Assistant Vice President Meg Cadiz, Kudos Director Kim Swenson, RCU Point Arena Branch Manager Robin Ashford and RCU Community Coordinator Briana Gonzalez. RCU recently donated $1,500 to support Kudos.
---