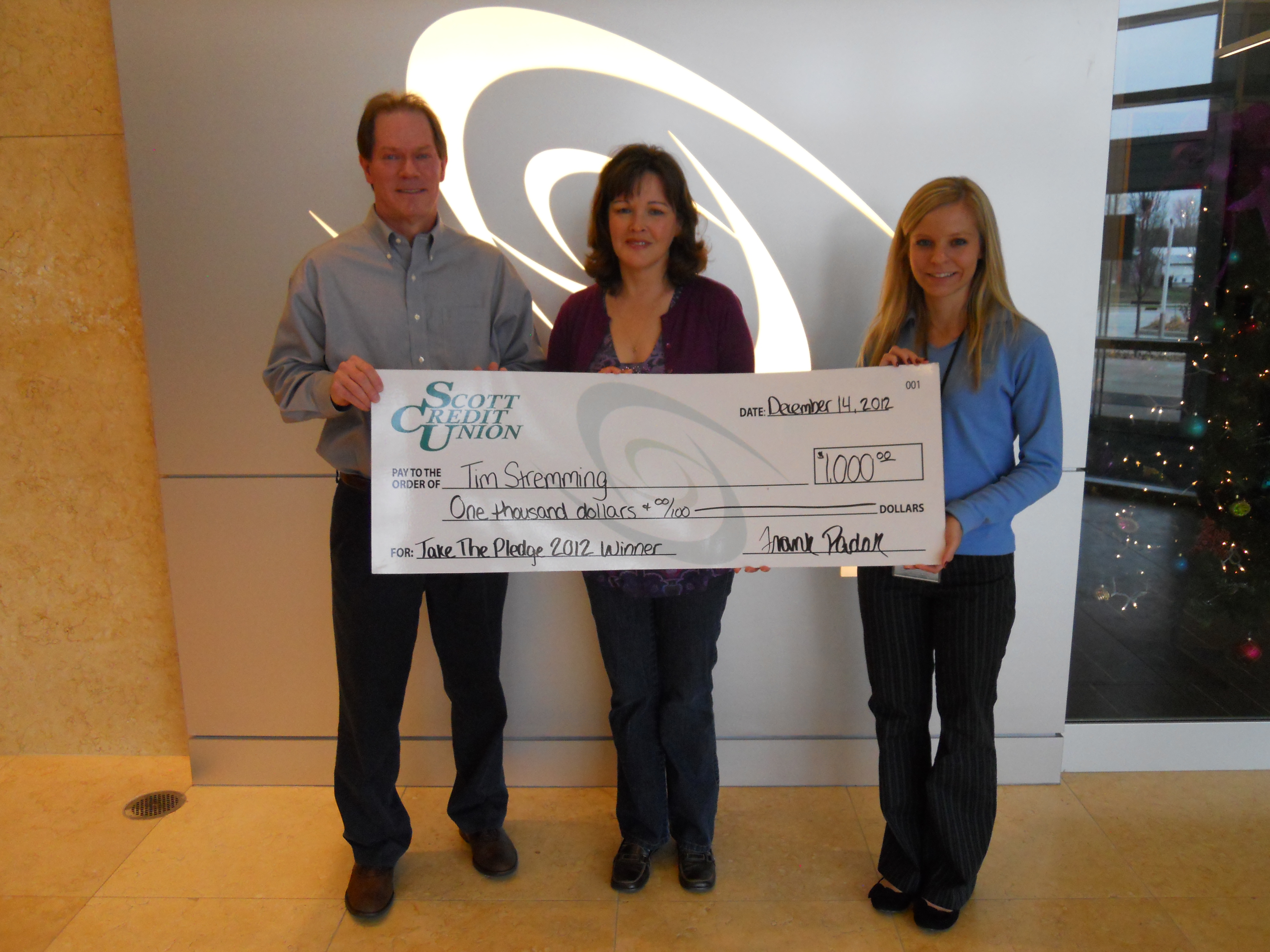 Scott Credit Union Awards $1,000 Prize to Financial Fitness Program Winner
336 People 'Took The Pledge' In 2012
Tim Stremming of Edwardsville spent most of this year working to become more financially fit. His efforts were rewarded, and given a boost, recently when Scott Credit Union announced that he was the winner of its "Take The Pledge" financial fitness program.
Stremming and his wife, Kim, were on hand at SCU last week to receive Tim Stremming's $1,000 Certificate prize.
Stremming was the winner of the 10-month program that was offered by SCU to help area residents take control of their finances by receiving financial tips, attending free seminars, having access to financial advice and keeping quarterly worksheets to help them track their progress.
"At the end of the program in October, we chose one participant to win the $1,000 certificate to help kick-start their savings," said SCU Community Relations Supervisor Ashleigh Deatherage. "We truly care about our members and their financial lives. While we continue to be in tough times economically, it is the perfect time for us to help people learn more about handling their finances."
"We congratulate Tim and Kim for sticking with the 'Take The Pledge' program. They turned in their worksheet each quarter and really worked toward being more financially fit," Deatherage noted. "Kim also was one of our quarterly winners for her effort."
The "Take The Pledge" campaign had 336 participants in 2012.
"To take the pledge to be financially fit, members simply enrolled online," Deatherage added. "Once they did that, they were entered for a chance to win quarterly prizes and the $1,000, one-year certificate grand prize."
Once participants enrolled in the free program, they received an email with instructions on how to track their progress in their effort to improve their finances.
"Plus, they received monthly email updates that provided them with financial tips and tools, exclusive money-saving incentives and the opportunity to ask financial questions that were answered by our experienced team. They also were invited to attend free financial seminars," Deatherage said. "Those who participated earned additional entries in the prize drawings by attending our free financial seminars in person or by viewing them online."
Participants also could earn additional entries in the prize drawings by sharing the "Take The Pledge" program on Facebook.
Scott Credit Union offered 18 free seminars in 2012 including topics such as money management, home buying, investing, car buying, identity theft, retirement planning and couponing.
"We are really proud of the 'Take The Pledge' program and the opportunity to help people improve their financial lives," Deatherage said. "We had a strong series of free seminars and participants with tools that can help them in these tough economic times."
Scott Credit Union will be offering the "Take The Pledge" program again in 2013. To enroll in the free financial fitness program, members of the credit union should visit the credit union's web site at www.scu.org for details after the start of the new year.
Scott Credit Union is a not-for-profit financial cooperative that is member owned. The credit union is member owned and recently gave about $1.2 million back to members through a bonus dividend and loan interest rebate.
Scott Credit Union is open to anyone who lives or works in a 17 county area, including Madison, St. Clair, Monroe, Randolph, Perry, Franklin, Jefferson, Washington, Clinton, Marion, Bond, Macoupin, Montgomery, Fayette, Effingham, Williamson, and Jackson counties. Anyone who lives or works in St. Louis County, Missouri also can open accounts at SCU. Additionally, anyone active or retired military also can have accounts with Scott Credit Union.
Scott Credit Union currently has 15 area locations: Scott Air Force Base, East Belleville, Fairview Heights, Collinsville, O'Fallon, Edwardsville, Waterloo, Highland, Caseyville, West Belleville, Millstadt, Mascoutah, Troy, East Alton and its Home Office in Edwardsville.
For details on opening accounts at Scott Credit Union, visit www.scu.org, call 1-800-888-4728, or stop by any of the credit union's branches.
---