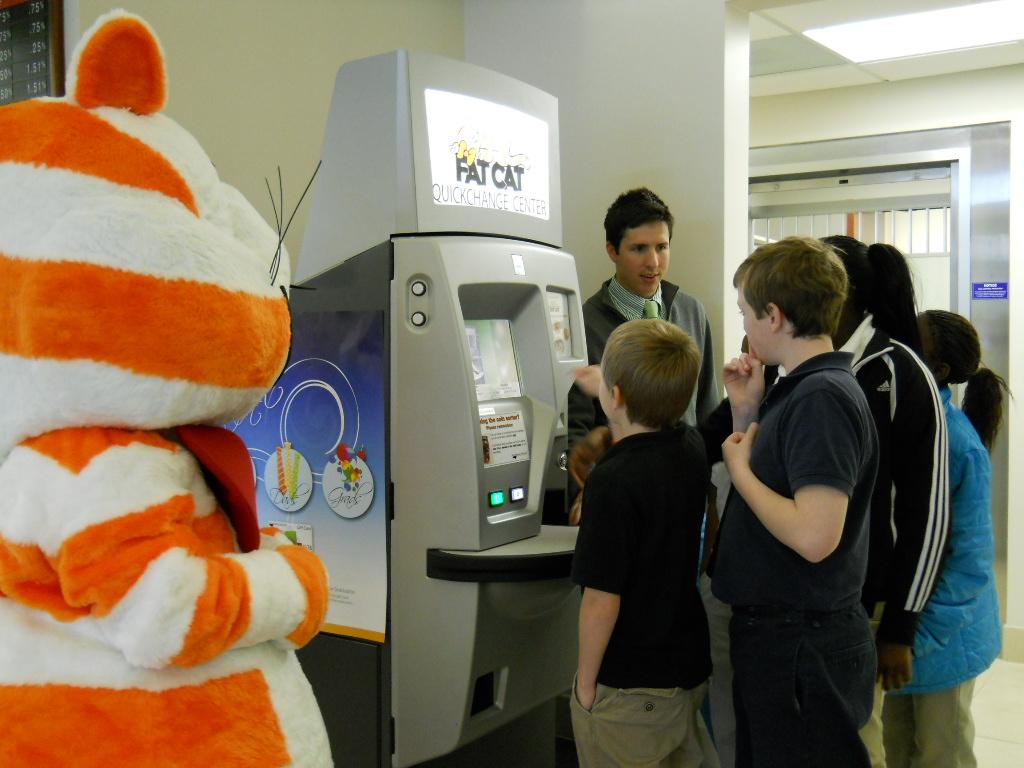 SECU's FAT CAT at Work for Local Charities!
RALEIGH, NC (July 25, 2013) — For State Employees' Credit Union (SECU) members, the name FAT CAT is synonymous with saving.  As SECU's youth program mascot, FAT CAT helps teach and encourage youth to save for their future.  But FAT CAT doesn't stop there, going beyond the membership to also assist local schools, charities and other non-profit organizations through SECU's no-cost coin sorters.  In the past year alone, SECU FAT CAT coin sorters counted over $160,000 in change for these groups, saving them approximately $18,000 in fee-based coin counting charges!
Introduced in 2005 as a member benefit in SECU branches, the popular coin sorters have offered an opportunity for the Credit Union to extend its cooperative spirit to over 80 different schools and more than 100 non-profits statewide.  Groups such as the American Cancer Society, Leukemia & Lymphoma Society, NC Zoological Society and local schools supporting various charities through coin drives utilize SECU's no-fee coin sorters.  Their usage provides relief from fees, which average 8-10% per transaction, and helps non-profits keep more dollars for their cause.
Pine Lake Preparatory School in Mooresville recently used an SECU coin sorter with their Pine Lake Penny War to benefit the Leukemia & Lymphoma Society.  The school's Student Council wrote to SECU's Mooresville branch staff, "Thank you so much for SECU's assistance with counting coins for our Penny War.  Without the generous use of your coin sorter machine, we would STILL be counting and sorting loose change.  Your service and kindness do not go unnoticed.  We raised over $8,200!"
Jennifer Hamrick, Senior Vice President of SECU's Support Services department comments, "Credit Union personnel have long been involved in the communities in which they serve, participating with fundraisers and other local events.  The FAT CAT coin sorters provide SECU and our staff an additional resource to make a positive impact, helping people locally and nationally."
About SECU
A not-for-profit financial cooperative owned by its members, SECU has been providing employees of the State of North Carolina and their families with consumer financial services for over 75 years.  With 1.8 million members, SECU provides services through 248 branch offices, 1,100 ATMs, 24/7 Contact Centers and a website, www.ncsecu.org.
---