Rock & Roll for Credit Unions 4: Quitters Never Win, and Other Lessons from Dr. John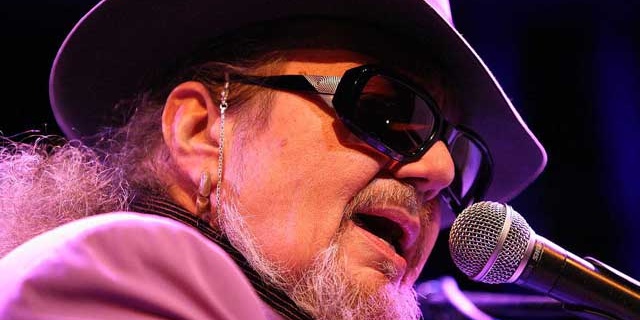 At 72 years old, Dr. John may not be the most nimble fella, but his life story is one best described by the lyrics of one of his songs: Quitters Never Win and Winners Never Quit.
by Bo McDonald, Your Marketing Co
Last weekend I had the pleasure of seeing Dr. John in a live performance at the Variety Playhouse in Atlanta. When I told friends I was going to see the show I heard one of two questions: "Who's Dr. John?" – or – "That guy is still alive?"
At 72 years old, Dr. John may not be the most nimble fella, but his life story is one best described by the lyrics of one of his songs: Quitters Never Win and Winners Never Quit.

Malcolm John "Mac" Rebennack, Jr., also known as Dr. John was born November 21, 1940 in New Orleans. Dr. John, a member of the Rock N Roll Hall of Fame and a six-time Grammy winner has been around the music scene since the late 1950s. He came to wider prominence in the early 1970s with a wildly theatrical stage act inspired by medicine shows, Mardi Gras costumes and voodoo ceremonies.
As he was growing up in New Orleans, Dr. John was exposed from a young age to prostitutes, pimps, thieves and addicts.  They all participated in the same nightlife scene that contributed to his success as a young musician. But he was introduced to many drugs including marijuana at a young age which ultimately lead to a heroin addiction in his teen years. He recalls being "loaded" the first time in high school.  He identified the high he would spend a good part of his adult life chasing. A not so fond recollection, Dr. John looks back on the shortsighted moneymaking schemes he would devise through his teens and twenties, all to fund his next dose of heroin.
During the 1950s, he sold narcotics, ran a brothel, and even opened a business offering abortions (which were illegal at the time in New Orleans). Drug-induced nightclub gigs throughout Louisiana and the Southeast resulted in frequent shootouts and altercations with the police. He picked up quite a rap sheet that eventually led to prison time in Texas. When his sentence ended in 1965 he left for Los Angeles.
Failing to heed the warnings of friends and paying no attention to his mother's concern he continued his habits through the 1980s. Dr. John failed to beat addiction after numerous stays at rehabilitation. It was only after experiencing cardiac problems in New York that Dr. John exited his final rehab stint, sober, in December 1989. He then struggled with psychiatric problems throughout the 1990s, but today he's sober and mentally stable with the help of medication.
Dr. John's life story should be an inspiration for anyone looking for hope in this world. Here are three lessons from the good Dr. John:
Quitters Never Win: I'm sure you can relate when I say some days just don't seem worth it. You spend hours working your tail off, only to feel defeated and unappreciated. Change doesn't happen overnight. Dr. John spent most of his adult life battling many addictions, finally shaking the need for the night high only to encounter psychiatric issues. It could have been easier to throw in the towel and call it a day, but he overcame those issues as well. And based on his performance in Atlanta Saturday evening he's having the time of his life. He wasn't just putting on a performance; he was doing what he loved surrounded by a band that truly enjoyed playing together. Go ahead, quit. But remember the words of Confucius: "Our greatest glory is not in never falling but in rising every time we fall."
Pitch In and Do Your Thang: The song "Let's Make a Better World" seems like it was written specifically for the cooperative model: The world we know was built on skills, but that alone don't count. Without the sweat and toil of mine; it wouldn't be worth a dime. You got to live and give, share and care. Really put some love in the air. When your neighbor's down, try to pick him up. Nobody can live in despair. Pick a few lines out of the opening of this song and your credit union would have an awesome mission statement! Heck, forget the mission statement. Just live by those words and see how your life turns around! Society has no priority; we're all one part of a whole. When people scream and shout, you hafta hear 'em out. Everybody is a beautiful soul. You gotta pull together, go hand in hand. You really got to do your best. Wouldn't it be a perfect sight to see: the whole world filled with happiness.
Stay young: Younger fans have come to know Dr. John through the help of the Black Keys. Dr. John's latest album, Locked Down, was the brain child of 33 year old Dan Auerbach, singer and guitarist for the Black Keys. In an interview with NPR Auerbach had this to say about helping Dr. John pick the musicians for this new project:
"I wanted to surround him with younger guys. To test him a bit. I didn't want anything to be too comfortable or too comfortable about the record …"
During the show in Atlanta on Saturday night, the young band members certainly played a part in the success of the show. Dr. John was still the star and main staple of the performance, but the young musicians brought an air of energy to the stage. In my opinion this interaction allowed Dr. John to be relaxed and just enjoy playing in this intimate venue. No matter your age, it's a good idea to surround yourself with young, unjaded professionals to instill a breath of fresh air in your organization.
Bo McDonald is president of Your Marketing Co. A marketing firm that started serving credit unions nearly a decade ago, offering a wide range of services including web design, branding, ...
Web: yourmarketing.co
Details