Sackett spreads volunteer spirit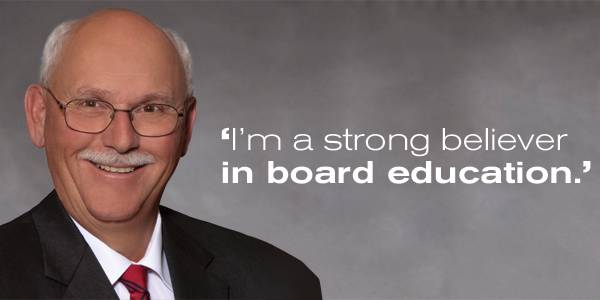 A Q&A with John Sackett, chairman of the CUNA Volunteer Leadership Committee.
John Sackett, chairman of the CUNA Volunteer Leadership Committee, is treasurer of $1.3 billion asset Royal Credit Union, Eau Claire, Wis. As chairman, he's also now an active participant in CUNA Board meetings.
"Credit union volunteers play a critical goal in the success of the credit union system, and we must continue to find new ways to get them more engaged with CUNA," says CUNA President/CEO Bill Cheney. "We're grateful to have the benefit of his views."
"We all know the incredible contributions that volunteers have made to the success of the movement–and how critical they are for our future," says CUNA Chairman Pat Wesenberg, also president/CEO of Central City Credit Union, Marshfield, Wis.
"With the many challenges before credit unions today–particularly in reducing the regulatory burden, addressing the issues of small credit unions, and preserving our tax exemption–this added voice to our board deliberations is most welcome," she adds.
Sackett spoke with Credit Union Magazine about volunteer leadership and the committee's role.
How did you get your start with Credit Unions? 
I needed a credit card—and the bank I was with turned me down. A friend worked at Royal Credit Union and suggested I apply there. I joined—and have been a member ever since.
I can be rather outspoken, and one day I mentioned to my friend that I had been waiting so long in the drive-through line. At the time, Royal only had one brick and mortar office. She suggested that instead of complaining, I should take an active part in the credit union. So I applied to be a volunteer.
Although there were no openings, the board asked me to serve on the supervisory committee. After about 18 months, a board member retired and the chairman appointed me to fill that position.
That was 32 years ago—and I served 17 years as chairman.
What issues faced Royal Credit Union then? 
The top issue facing all credit unions then was the threat of taxation, same as today. Our stance is different now though—more aggressive and not passive.
And Royal also was faced with adding technology to meet our members' needs. That included ATM expansion.
continue reading »