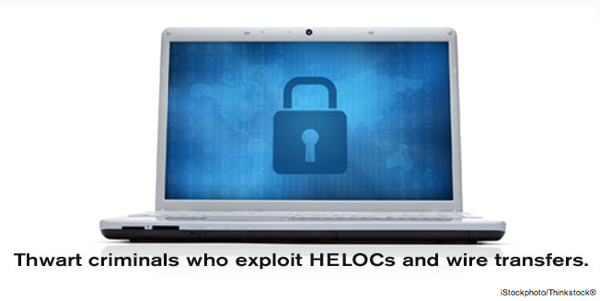 Safety isn't convenient, but members will be glad you're acting in their best interest.
If your credit union accepts remote requests for wire transfers, make sure you're taking steps to thwart criminals who are exploiting these transactions.
These criminals are targeting high-dollar home equity lines of credit (HELOCs). They impersonate members, requesting a large transfer from a HELOC to a checking account, then request a wire transfer from the checking account to another account, usually overseas.
Credit unions reported more than $25 million in losses from 2007 to 2012 due to wire/HELOC claims, according to CUNA Mutual Group. The average loss reported in 2012 was $175,000—but some totaled nearly $1 million.
Limiting this risk is a balancing act: You must weigh your desire for convenient service to members against your duty to protect their accounts from the bad guys.
As you weigh service against security, factor in the value of the trust you've built among your membership and community. Even if this type of loss is covered by insurance, losses that gain publicity through word of mouth, social media, or traditional news outlets can deal a significant hit to your credit union's reputation.
Make criminals' job harder
Depending on the needs of your membership, you may be able to virtually shut off this risk exposure by requiring members to make HELOC transfer requests and/or large dollar wire transfer requests in person.
This practice is heavily weighted toward safety and away from convenience—it simply may not be feasible for your membership.
continue reading »