Small Business Stories Highlight A Day Of MBL Advocacy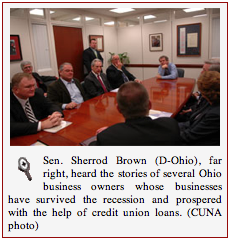 Dayton, Ohio-area real estate developer Jerry Bush said he might not still be in business today were it not for his credit union.
He was one of 500 small business owners and credit union advocates from across the country that stormed the halls of the U.S. Congress to urge legislators to give credit unions the freedom to grow their member business lending (MBL) portfolios, and help small businesses, during the Credit Union National Association's (CUNA) National Hike the Hill.
Bush, who runs his custom homebuilding business with the help of his two sons, said his operation is one of hundreds in the state that have seen trouble in a down economy. His credit union, RiverValley CU, came through and gave him the loans that allowed him to keep his business running in troubled times. However, Bush noted that some credit unions are prevented from offering loans to businesses in similar straits by the 12.25%-of-assets credit union MBL cap.
In one of many Wednesday meetings between his Ohio Credit Union League-led group and members of Congress, Bush told Sen. Sherrod Brown (D) he would "talk to anybody" to support his credit union. "These guys are the only ones over there helping people like me, and there are thousands of us," Bush said.
Other Ohio small business owners vividly described their individual situations, and described how their credit unions helped them, in an early-morning meeting with Sen. Rob Portman (R). The business owners all turned to credit unions when they could not find loans elsewhere. Ohio Credit Union League Vice President of Government and Political Affairs John Florian said his group's meeting with Portman was very productive.
Overall, banks are not making the types of loans that credit unions are making, several small business owners and credit union representatives stressed.