State of the Economy: Slow growth, but uncertainty still prevails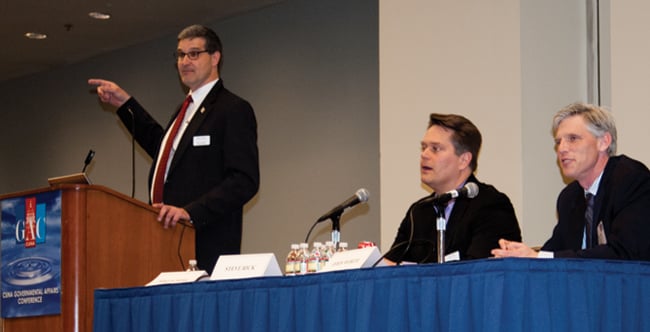 The recovery continues despite government finance issues and the threat of austerity.
Economists expect continued slow improvement in U.S. economic performance and credit union operations in 2013.  In a Tuesday breakout session, CUNA economists Mike Schenk and Steve Rick, joined by NCUA Chief Economist John Worth, scrutinized that forecast and examined current economic trends. The biggest drag on the U.S. economy is likely to be the combination of uncertainty surrounding government finance and the threat of austerity.
Despite these risks, CUNA economists expect economic growth to rise modestly to 2.5%. Consumer prices should hold steady, with increases in the consumer price index remaining below the Fed's newly articulated inflation threshold of 2.5%. The unemployment rate should finish the year not much lower than 7.5%, well above the Fed's 6.5% target. Discouraged workers re-entering the market will keep the rate high. Short-term market interest rates will stay near zero all year, and longer-term interest rates will rise, but only slowly.
The recent fiscal cliff agreement will have a net positive effect. The permanent extension of tax cuts for 99% of Americans will reduce tax uncertainty, boost household and business confidence, and spur additional consumption and investment spending. The increase in the payroll tax rate to 6.2% from 4.2% will tend to counteract these positive effects, but the increase and subsequent drop in disposable income likely will lead to a lower savings rate rather than a decline in spending, CUNA economists say. "We expect slightly faster loan growth in 2013, with increases in the 4.5% to 5.5% range," said Schenk. "Savings growth rates will recede modestly toward the rates anticipated in loan balances, causing loan-to-savings ratios to firm up."
continue reading »