Teams Debate Massive vs. Measured Change: Onsite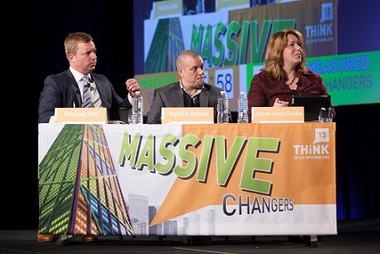 by David Morrison
CHICAGO — Massive change vs. measured change was the topic of debate Thursday morning in a final–day session at CO-OP Financial Services' THINK 13 conference.
The team of executives arguing for massive change, including Patrick Basler, president of First Financial Credit Union in Chicago; industry attorney Michael Bell of Detroit; and Sarah Snell Cooke, publisher and editor-in-chief at Credit Union Times, won the debate by 57% to 43%, according to audience polling taken during the event.
The massive change team argued that credit unions represented massive change from their very beginnings and have continued that as a core principle since.
The measured change side, represented by Frank Diekmann, publisher of Credit Union Journal; Jill Nowacki, vice president for development at MAPS Credit Union in Oregon; and Sandra Scott, vice president of card services and product management for Patelco Credit Union in California, argued credit unions had merely adopted and adapted to changes going on in the market.
Even though it was a spirited debate, in many ways some of the debate struggled with distinguishing what represented massive versus measured change.
continue reading »