Templeton tells Senate Banking NCUA wrong on RBC2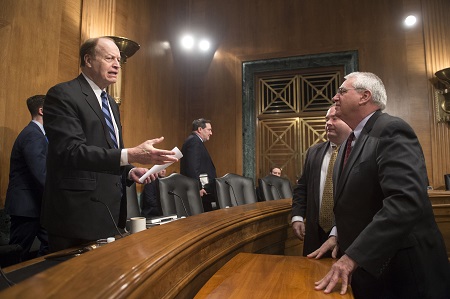 NAFCU's Ed Templeton told the Senate Banking Committee yesterday that credit unions are straining under regulatory burden and told the committee's chairman of the major disconnect between the views of regulators and the regulated on this score. He used NCUA's risk-based capital proposal as a case in point.
Templeton, NAFCU's chair and the president and CEO of SRP Federal Credit Union in North Augusta, S.C., testified in the committee's second hearing this week on regulatory relief. He was asked by committee Chairman Richard Shelby, R-Ala., whether NCUA had done sufficient analysis on the cost vs. benefit of its latest RBC proposal. Templeton said it did not.
"The current proposal is a significant improvement," he said. However, he added, if the current proposal were applied retrospectively to the financial downturn, 95 percent of the credit unions that would have been problematic came through the crisis soundly. "I think that's a good indication that it's not necessary."
Sen. Mike Crapo, R-Idaho, asked all witnesses – representatives from the American Bankers Association, CUNA, Independent Community Bankers of America, Center for Responsible Lending and NAFCU – to submit in writing their top five to 10 ideas that would immediately give their financial institutions regulatory relief without upsetting the safety and soundness of the industry. Sen. Heidi Heitkamp, D-N.D., made a similar request.
continue reading »