The American Dream is out of reach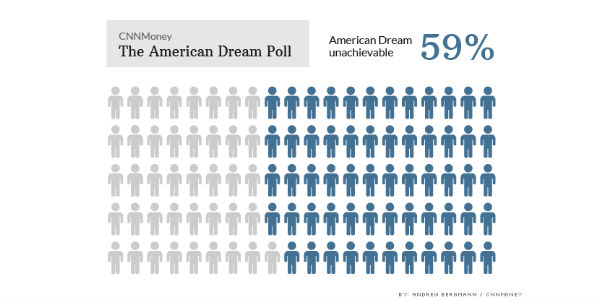 by. Tami Luhby
The American Dream is impossible to achieve in this country.
So say nearly 6 in 10 people who responded to CNNMoney's American Dream Poll, conducted by ORC International. They feel the dream — however they define it — is out of reach.
Young adults, age 18 to 34, are most likely to feel the dream is unattainable, with 63% saying it's impossible. This age group has suffered in the wake of the Great Recession, finding it hard to get good jobs.
Younger Americans are a cause of great concern. Many respondents said they are worried about the next generation's ability to prosper.
Some 63% of all Americans said most children in the U.S. won't be better off than their parents. This dour view comes despite most respondents, 54%, feeling they are better off than their own parents.
The downbeat mood is not surprising, say economic mobility experts.
"The pessimism is reflective of the financial realities a lot of families are facing," said Erin Currier, the director of the Economic Mobility Project at Pew Charitable Trusts. "They are treading water, but their income is not translating into solid financial security."
continue reading »