The biggest mistakes we are STILL seeing with credit union websites
Believing that New Websites Don't Need Regular Updating
Honestly, as a digitally savvy society, we are long past the redesign it and forget it for two to four years phase of website design. Like any high performing bank or credit union branch, your website needs regular maintenance. Now you might be able to get away with not conducting daily maintenance, but at a minimum it needs to be cleaned up and updated weekly and monthly.
In an ideal world your blog content should be updated 2-3x per week and your product and service content should also be optimized on an on-going basis. These revenue generating pages should also have educational content for users who aren't quite ready to apply now. And smart content on high traffic pages that changes depending on any known characteristics of the user.
Having Websites that aren't SEO Optimized
If people couldn't find your brick-and-mortar branch locations you'd take action. You would make the signage more visible, make sure the address was clear from the street, or even add some additional elements to make the location stand out from its surroundings. Optimizing your website for search is no different.
Search engine optimization (SEO) is the practice of making sure your website can be found online, and way too many credit unions are still missing the mark on this. Not only are website's missing key on-page SEO elements like header tags, meta descriptions and alt tags, but they also lack a search strategy around what terms or phrases consumers are using to find financial products or services. And don't count on your web design company to know all the in's and out's of this process… they are experts at programming, but you need help from someone who knows your industry and can help you craft content on your website that is user friendly AND works well with Google.
Not Having Dynamic Content for Each User
More and more we ARE seeing smaller financial institutions attempting to implement personalized experiences, but you can't just insert someone's name on a page and call it a day. The actual content and calls-to-action should shift based on user characteristics.
If a user has visited a specific product or service page in the last week or two show them content pertaining to that topic when they return to your homepage. Or show them a rate special when they log into online banking. If they are a known customer you can even send them an email with these details. People want what they are looking for WHEN they are looking for it… so help them find more details. Be helpful, informative and specific. That will always win you trust and business.
Websites are STILL Not ADA Compliant
Believe it or not this is still an issue. We are seeing many developers who remain unaware of how to design for WCAG 2.0 standards. Colors aren't high contrast, PDFs are prevalent throughout the sites, and tables and accordions aren't always readable. There's just too much on this now to be creating websites that aren't easier to navigate.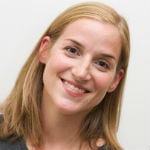 Meredith Olmstead is the CEO and Founder of FI GROW Solutions, which provides Digital Marketing & Sales services to Community Financial Institutions. With experience working with FIs in markets of ...
Web: www.figrow.com
Details